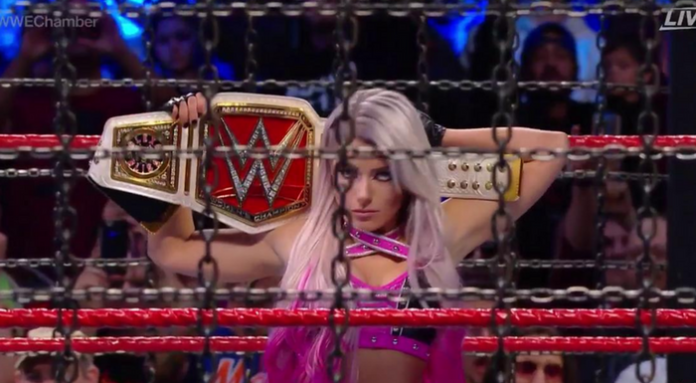 Two things happened during the historic women's Elimination Chamber match that I absolutely expected to happen: one, Sasha Banks turned on Bayley; and two, Alexa Bliss retained the Raw Women's Championship.
#LittleMissBliss is MANIA-BOUND! 😈 😈 😈 #WWEChamber #WrestleMania @AlexaBliss_WWE pic.twitter.com/FDVBfxWKMf

— WWE (@WWE) February 26, 2018
What I didn't expect, however, was Bliss's fantastic fake-out promo during her victory interview.
.@AlexaBliss_WWE is here to stomp your dreams into the cold, hard ground. pic.twitter.com/3LuEC5Po09

— TDE Wrestling (@totaldivaseps) February 26, 2018
As WWE has been wont to do as of late, they trotted Renee Young out to interview Bliss immediately following her victory. A tearful Bliss dedicated her win to all the young girls and women watching who had ever dreamed big – and then promptly informed them that they weren't good enough to achieve said dreams.
I wish I could marry this Alexa Bliss promo.

Mood all week/month/year/life pic.twitter.com/ah1jk3gJgc

— Jack McGuire (@JackMacCFB) February 26, 2018
I have to give it to Bliss – I totally fell for the heartfelt start to this promo. I may or may not have even teared up a bit. And then she took all of my hopes and dreams and crushed them under her unforgiving boot.
And of course, she reiterated the sentiment on Twitter.
Always follow your dreams! Work hard and try your best!

…but don't be sad when someone better comes along and beats you. #GoddessAboveAll #MyWrestleMania #WWEChamber pic.twitter.com/GZw7N3GrwG

— Alexa Bliss (@AlexaBliss_WWE) February 26, 2018
This is why Alexa Bliss has been one of my favorite women Superstars ever since her promotion to the main roster. Yes, Sunday was the first time she'd defended her title in months, but she keeps proving time and time again why she's the champion, and last night was no exception. Hate on Bliss all you want, but the fact of the matter is that she's an egotistical, opportunistic champion, and last night that persona was firing on all cylinders. In my opinion, WWE couldn't have made a better choice to have Bliss go into WrestleMania as champion.
The only question is: who will she face? Asuka? Nia Jax? Whatever the case, I'm sure the Goddess will make the most of her WrestleMania moment.
What did you think of Alexa Bliss's Elimination Chamber promo? Do you think she deserved to win or not? Share your thoughts and comments below!
Your Thoughts
Sign Up for a daily briefing from your #1 source for wrestling intel