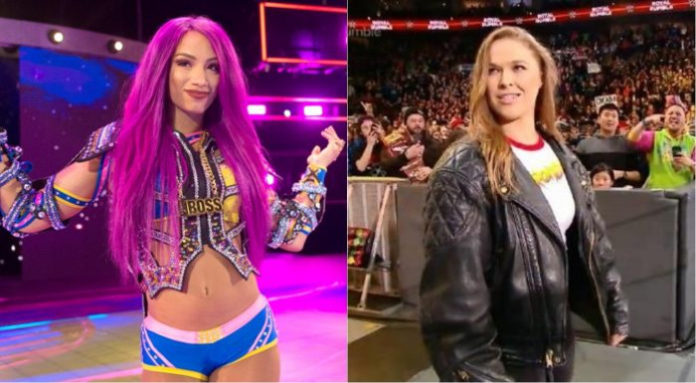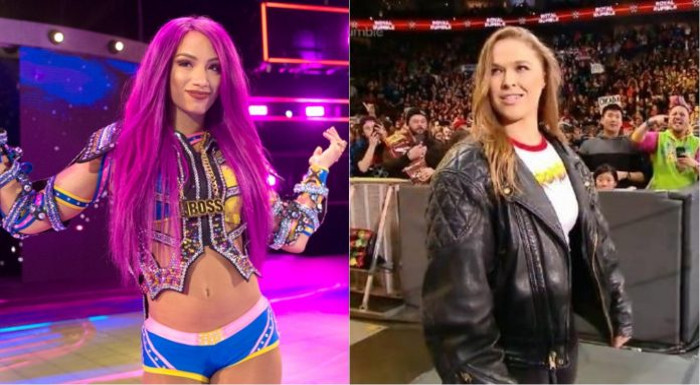 Sasha Banks is known to speak her mind on subjects that affect her wrestling career. This time, Ronda Rousey suffers the wrath of the former WWE Women's Champion, hinting she is far from happy with the arrival of the former UFC champion. Here is the story.
Featured on Busted Open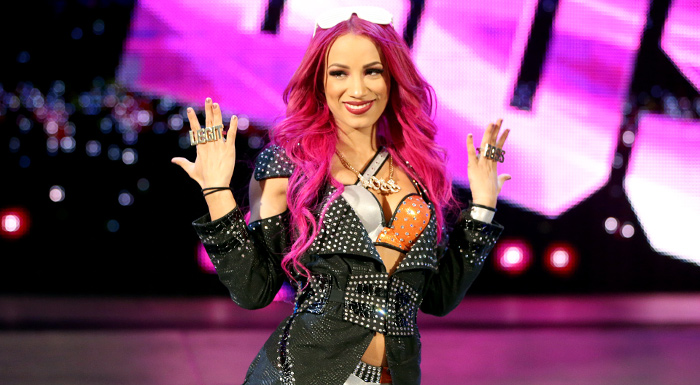 The interview where Sasha Banks hinted at her displeasure with the arrival of Ronda Rousey happened on Busted Open. During the interview, she spoke about Ronda's appearance with Dave Lagreca, Bully Ray, and Mark Henry. Here is a summary of Sasha's comments after she was asked about her feelings towards Ronda Rousey and her arrival in the WWE.
"My feelings are, and I'm sorry to you guys, but I have nothing nice to say, so I can't say anything at all. So, that's it."
New Female Wrestler Hate
It is not uncommon for other female wrestlers to give new female wrestlers a hard time. Such stories are a common occurrence on Total Divas, the television series featuring various female wrestlers from the WWE roster.
Cool she's here….I guess 30 women making history can just be forgotten https://t.co/fHqMezduEH

— Nia Jax (@NiaJaxWWE) January 30, 2018
A new wrestler, especially someone who is already famous, could become a severe threat to these girls. Sasha Banks is not the only one who posted something that hinted towards displeasure, since Nia Jax and the Bella Twins also posted something to show their support for the current roster, but alienating Ronda.
Wonder what all the 30 other women candid thoughts were too? N #firsteverwomensroyalrumble https://t.co/42sztg2JWB

— Nikki & Brie (@BellaTwins) January 30, 2018
The Reason for Sasha's Problems with Ronda Rousey
I have some issues with this myself, since a possible rivalry with the UFC horsewomen and her fellow wrestlers Becky Lynch, Bayley, and Charlotte, put Sasha Banks in the proverbial spotlight not too long ago. However, now that Ronda Rousey arrived at the WWE, she is taking the spotlight from Sasha. Some of the other women are being quite nasty too, which is hardly a fun environment for everyone.
While it is understandable that it can be frustrating to deal with another new arrival, Ronda Rousey's appearance during the Rumble did not affect the achievement of the women in my opinion. I found the women's Royal Rumble far more memorable, so what the deuce is the problem?
Even though I respect a lot of the women on the WWE, I do notice a lot of nastiness going around when it comes to their fellow wrestlers. It seems like they cannot stand anyone else getting some time in the spotlight… It is time to grow up girls. If Ronda does a good job, she belongs in the WWE. If not, then you have a right to complain, not before!
Still, I must say that there are some women that keep these opinions to themselves and let their work speak for them. Some of the most professional wrestlers at this time include Alexa Bliss, Natalya, Bayley, Becky Lynch, and Asuka. However, if find that many of the women fall victim to this nastiness, which makes me no longer respect them. I loved the Bella Twins in the past, and then I saw how they bullied Noami and Cameron backstage when they just started on the main roster. The same thing applies to Sasha Banks, who only thinks of number one and has problems with many other female wrestlers, including Alexa Bliss. My conclusion? Grow up or get out! Let your skills do the talking, not your mouth. But well, that's just my opinion.
Share your thoughts on this story in the comments below.
Your Thoughts
Sign Up for a daily briefing from your #1 source for wrestling intel