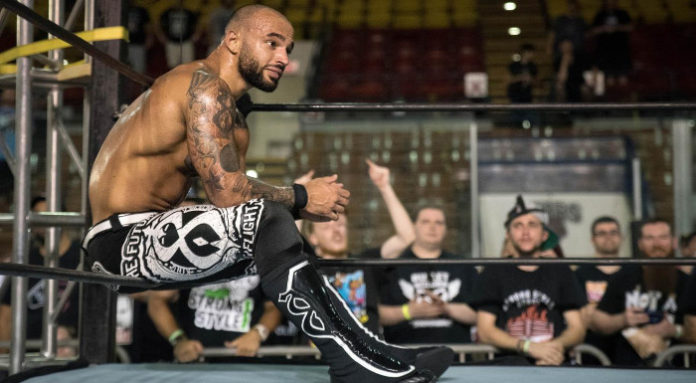 Rumors surrounding the impending arrival of Ricochet in the WWE have been rampant for months. Now, it would seem like the arrival of the famous indie wrestler is imminent. Here is the story!
**UPDATE** Richochet has officially reported to the Performance Center!
Innovative high-flyer @KingRicochet has officially joined the @WWEPerformCtr! https://t.co/VMxa5uAxXi

— WWE NXT (@WWENXT) January 16, 2018
Joining NXT in January
According to recent rumors, Ricochet will be joining NXT in January 2018. Sources claim that the indie star will start his journey by training at the Performance Center in Orlando as soon as the New Year starts, and eventually make his debut on January 27th.
I must mention that there have been no official statements from the WWE regarding the acquisition of Ricochet. However, since Ricochet is one of the biggest indie wrestlers, I would not be surprised the WWE wants to keep his arrival a secret.
Evidence Supporting Ricochet Might Be Joining the WWE!
Naturally, there are some indicators that Ricochet might indeed be joining the WWE soon. The first indicator is the serious interest the WWE had in Ricochet for months now. Secondly, Ricochet recently left Lucha Underground, where he wrestled as Prince Puma. Even though the identity of Prince Puma is unknown, most people are under the impression it is Ricochet because of the similar tattoos both wrestlers display.
Why Should We Be Excited About Ricochet (Prince Puma)

Ricochet is currently my favorite indie wrestler for a reason. The man has an impeccable high flying ability, and serious experience to back it up. Having Ricochet in the WWE could make things a hundred times more interesting. Of course, you do not have to take my word for it, simply check out his highlights video and judge for yourself! Let's face it, any man who has a top 50 moves video is worthy of a spot in the WWE. If Ricochet is indeed coming to the WWE, I cannot wait!
Are you familiar with Ricochet or Prince Puma? If so, are you excited about him possibly joining the WWE? If you are not yet familiar with him, are you excited based on his top 50 moves video? Let us know your thoughts in the comment section below!
Your Thoughts
Sign Up for a daily briefing from your #1 source for wrestling intel