Rey Mysterio has been off WWE television since April 2014. Even before that, he missed months with various injuries. Since officially leaving WWE in February 2015, Mysterio has wrestled for AAA, Lucha Underground, and various independent promotions around the world. He's not as fast and high-flying as he used to be.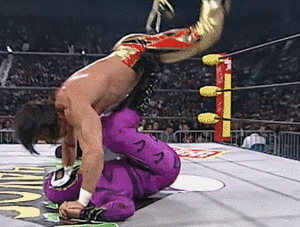 However, Mysterio is still hugely popular and a big draw for fans. He's rededicated himself to wrestling in the last few years. Mysterio is in top shape and wrestling some of the best in the world.
Speechless my homie @KingRicochet the honor is all mine! Truly enjoy my time to the fullest sharing the ring with u! https://t.co/t6B7dQNiZh

— ♛Rey Mysterio❔ (@reymysterio) July 17, 2017
His time out of the spotlight may be coming to an end though. The inspirational former World Champion and Royal Rumble winner is rumored to be negotiating with both WWE andImpact for a return to regular wrestling television.
More via Sports Illustrated on why WWE might be in the lead in signing the 42-year-old legend.
WWE also holds an edge with its state-of-the-art Performance Center in Orlando, Florida. Mysterio's son, Dominick, is pursuing a career in pro wrestling, and could benefit from the opportunity to train at WWE's PC.
It now seems that Mysterio is moving towards a role with Impact. There are rumors running that the former WWE Champion and innovator will be backstage for Impact's tapings in Orlando.
What Rey Mysterio Could Do for Impact and WWE
As mentioned in the SI article, both promotions are hungry for a positive role model and ambassador to the Latin America community. Mysterio is universally beloved across the world as a positive figure, especially to children. His character as a little guy overcoming the odds inspired millions.
While the master of the 619 is a step slower than he once ways, WWE would be able to book him in matches that protect him. For Impact, anything to bring in an audience would be a benefit.
Personally, Mysterio has been one of my favorites since his WCW days. I've always had a big interest in the cruiserweights and Lucha style. Mysterio would be a boost for the 205Live show and a great opponent for the evil Neville.
What do you think? Do you want to see Rey Mysterio in Impact or WWE?
Your Thoughts
Sign Up for a daily briefing from your #1 source for wrestling intel