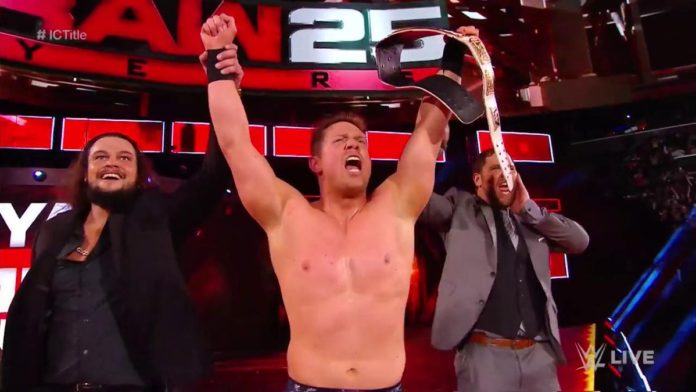 We knew Raw 25 would be a night of epic surprises, and it didn't disappoint. We've had legendary appearances and a few Stunners. One of the big matches planned for the night was Roman Reigns defending his Intercontinental Title against The Miz.
The match was a solid back and forth, and The Miztourage even got the boot. But their brief time ringside was enough for Miz to dislodge padding around a ring buckle.
That led to Roman slamming his head into the metal and getting hit with a Skull Crushing Finale.
SKULL CRUSHING FINALE!!!!! @mikethemiz IS THE NEW WWE INTERCONTINENTAL CHAMPION!!! #ICTtitle #RAW25 pic.twitter.com/rjRKSaEtM2

— Italo Santana (@BulletClubItal) January 23, 2018
And Miz becoming IC champion for the 8th time!
Congrats to @mikethemiz. The greatest WWE Intercontinental Champion of ALL TIME. #RAW25 pic.twitter.com/GEMK4olYB1

— Nick Hausman (@WZRebel) January 23, 2018
What does this mean now? Some people seem to think it frees up Reigns to win the Royal Rumble and challenge Brock Lesnar at Wrestlemania. This is causing cringes by some.
What do you think is next? Is Reigns destined to win the Rumble? Share your thoughts on Raw 25 in the comments below.
Your Thoughts
Sign Up for a daily briefing from your #1 source for wrestling intel