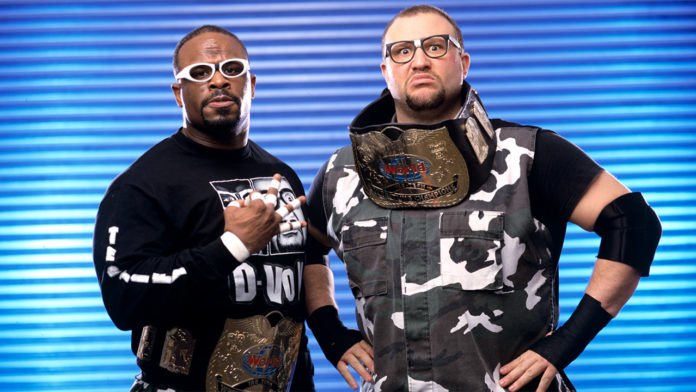 GET THE TABLES! And the podiums! The Dudley Boyz are going into the WWE Hall of Fame!!
BREAKING: As first reported by @CBSSports, @bullyray5150 and @TestifyDVon are the next inductees into the @WWE Hall of Fame Class of 2018! #WWEHOF https://t.co/ZaLsW20GWt

— WWE (@WWE) January 29, 2018
The Dudleys join Goldberg as the two announced inductees for the 2018 WWE Hall of Fame Class.
Who Else Will Join This Year?
Rumors state that Bam Bam Bigelow, Ivory, and Kid Rock (celebrity inductee) are also on the list for consideration this year.
We've detailed some of the most significant snubs from the Hall so far, and Goldberg, the Dudleys, and Bam Bam all made the list.
The WWE Hall of Fame has no real criteria and is the complete invention of Vince McMahon, but wrestlers and fans consider induction a pinnacle and sign that you've made a lasting impression in WWE and wrestling in general.
Plenty of controversial names won't make the HoF for one reason or another. CM Punk won't be in for the foreseeable future due to legal issues with WWE. Chris Benoit will never be in the Hall of Fame because he murdered his family and that should just about disqualify him from any accolades ever. It took Randy Savage over 20 years to get in the Hall due to rumors and petty backstage politics. Same with Bruno Sammartino and others. There are still plenty of big and legendary names not yet in the WWE Hall of Fame.
Are you a fan of the Hall of Fame? Share your thoughts in the comments below.
Your Thoughts
comments