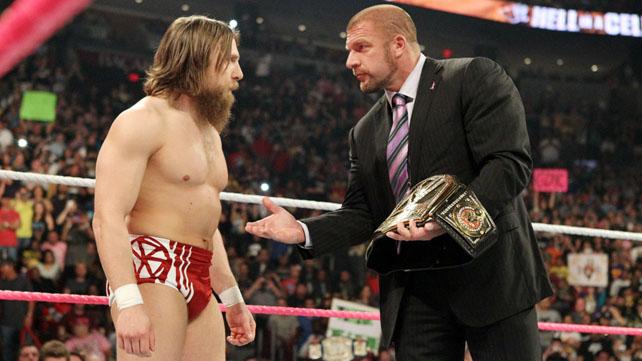 Despite his wishes and those of the WWE Universe, Daniel Bryan remains retired from in-ring action. Despite officiating a match at Clash of Champions, Bryan isn't lacing up his furry boots and putting on his red trunks anytime soon. There are however rumors running that Bryan's mini-feud with fellow Smackdown authority figure Shane McMahon will lead to a match at Wrestlemania. This is unlikely. Despite outside doctors supposedly clearing Bryan, WWE health officials maintain that Bryan can no longer compete in the ring.
Adding more water to the flames, Triple H addressed the Smackdown GM's health and why the ball is in the doctors' court.
"If the belief is that he's not healthy enough and it is a risk for [sic] to perform, then I don't know why we would ever allow him to step in the ring unless it can be proven otherwise."
That's in-line with what we already know. But if you want to dig a little too much into Trip's phrasing, then this next bit will probably lead you down an exciting road.
"The medical experts will make the determination of whether Bryan can set foot in that ring or not," Triple H explains. "Personally, for him, I know it's something he loved doing and I hope he has that opportunity. But at the same point in time, he's married and has a child. We serve the human being first."
Can Daniel Bryan Return?
That quote sounds like the situation could change, and doctors could eventually let him compete. This also seems to imply that Bryan's condition is checked on a continuing basis which means the nature of his injuries is different than previously believed. While the full extent of the malady was never disclosed, the belief was that Bryan had severe brain damage that would worsen if he took any more hits to the head. That might not be the case any longer. Bryan also has some nerve and muscular problems in his arms. Perhaps he is showing improvement in those areas?
The door is slightly open for Bryan to return. But I still expect WWE will not clear him. He will leave at the end of his contract and wrestle on the indies, most likely. His drawing appeal on the circuit would be massive and would add a bit more life into a field that has been, frankly, stagnant in the last year or so.
Do you want to see Daniel Bryan wrestle again? 
Your Thoughts
Sign Up for a daily briefing from your #1 source for wrestling intel