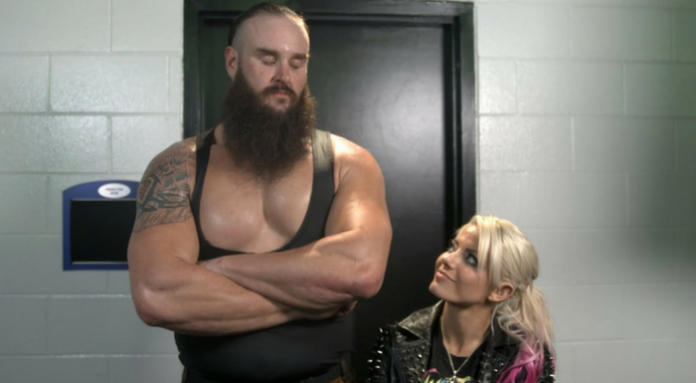 In the three weeks since it began, the Mixed Match Challenge has proven to be one of the best and most entertaining things currently happening in WWE; and this week the team of Alexa Bliss and Braun Strowman proved what I already knew to be true: they are far and away the best team in the entire competition.
These #WWEMixedmatchChallenge Team Entrances are Must See TV!!! 🤩#BeautyAndTheBeast #BiggieSmalls #WWEMMC @AlexaBliss_WWE @BraunStrowman pic.twitter.com/enUEJu4BBn

— Michael Chau (@MichaelChauTV) January 31, 2018
.@AlexaBliss_WWE with a little help from @BraunStrowman!

➡️ https://t.co/81bOkAzJNG pic.twitter.com/H8QIQKGtqp

— TDE Wrestling (@totaldivaseps) January 31, 2018
Not to take anything away from Sami Zayn and Becky Lynch, whose comedy routine was also on point – but Bliss and Braun might have something more than just in-ring chemistry going for them.
After Bliss picked up the win for her team thanks to a Braun-sized Twisted Bliss, Strowman revealed that he thinks Alexa is "kinda cute." And Alexa? Well, her response was pretty priceless.
In-ring chemistry might not be the only type of chemistry #WWEMMC pair @AlexaBliss_WWE & @BraunStrowman have… #GetTheseHands

See more on Facebook Watch! pic.twitter.com/C699bY8Qfc

— WWE (@WWE) January 31, 2018
Between the "get these hands" chant from the crowd and Braun's reaction to Alexa's proclamation that they're "going all the way," I want these two on my TV every week.
When she goes from "cute homegirl" to "super freak" in ten seconds flat. #WWEMMC pic.twitter.com/gK6IfhUtJg

— Hunter Patterson (@FaceVHeel) January 31, 2018
I totally ship it (sorry, Buddy Murphy).
Unfortunately, we won't get to see Braun and Alexa team up again until week 8 of the tournament (side note: I'm currently a perfect 3-for-3 in my Mixed Match Challenge predictions). In the meantime, WWE needs to print up a Braun and Alexa t-shirt so I can go immediately purchase it.
Who's your favorite team in the WWE Mixed Match Challenge? Do you think Alexa and Braun can "go all the way" in the competition? Share your thoughts and comments below!
Your Thoughts
comments