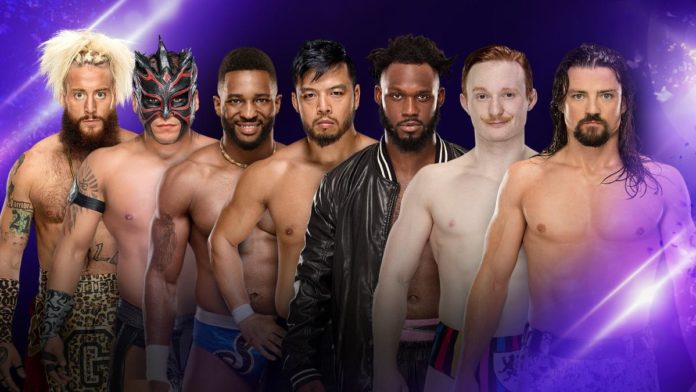 If you think 205 Live is faltering, WWE disagrees. On Monday, WWE announced that it will hold three special 205 Live events in January.
The Cruiserweight division is ready to fly high and drop jaws as WWE 205 Live holds three special events in January. Don't miss your chance to see Enzo Amore, Kalisto, Gentleman Jack Gallagher and all your favorite Superstars at 205 pounds and under in action three days in a row.
The events are as follows:
Friday, Jan. 19, 2018 – Kingston, RI – The Ryan Center
Saturday, Jan. 20, 2018 – Lowell, MA – Lowell Auditorium
Sunday, Jan. 21, 2018 – Poughkeepsie, NY – Mid Hudson Civic Center
Notably, all of these venues are on the smaller side; the Lowell Auditorium seats just 2,800. Also, for an interesting bit of trivia, the Mid-Hudson Civic Center was where WWE taped its internationally televised "WWF Championship Wrestling" from July 1984 to August 1986.
A Good Idea?
WWE's Cruiserweight division has definitely seen a boost since Enzo Amore's crowning as champion, and it will undoubtedly receive a further boost once Hideo Itami returns to join the ranks. Nevertheless, these live events will undoubtedly be a litmus test as to the drawing power of 205 Live's Superstars.
But at least Tony Nese doesn't seem worried:
Or, Idiots like you will realize you know nothing about anything but will continue to be negative about everything while continuing your mediocre lives. https://t.co/ozoKIFktND

— Tony Nese (@TonyNese) December 4, 2017
Personally, I think these special events are a great idea. Nothing beats getting to see high caliber pro wrestling in a smaller venue; it's precisely why independent promotions like Ring of Honor and Evolve are doing so well, and why the NXT tours always sell out. If 205 Live can duplicate NXT's success on the road, it would provide a huge shot in the arm to the division.
Tickets for each event go on sale Friday, Dec. 8, at 10 a.m. EST.
Would you go to a 205 Live special event if given the opportunity? Do you think 205 Live special events are a good or bad idea? Share your thoughts and comments below!
Your Thoughts
Sign Up for a daily briefing from your #1 source for wrestling intel