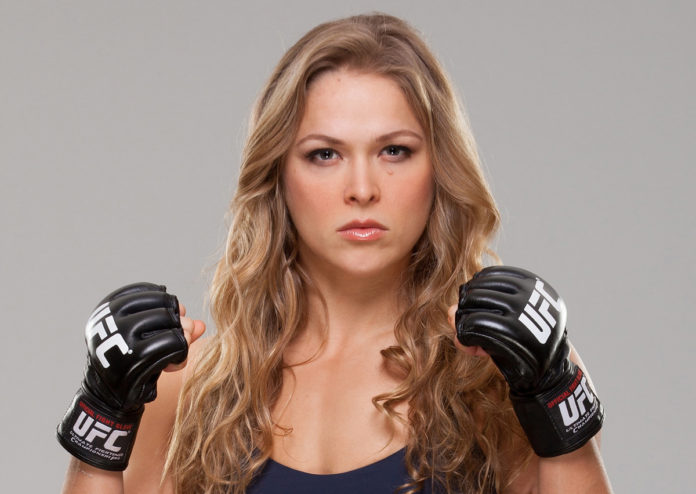 Is Ronda Rousey coming to the WWE? Possibly. But she'll have to train to be a pro wrestler first. It seems like she's shown a big interest in joining up. Consequently, Rousey attended a recent WWE taping featuring her friend and former training partner who made the jump. Apparently, Rousey is believed to be done in the UFC and is looking for her next big venture.But will her next venture be in professional wrestling? Possibly.
And according to the Fightful Podcast, Ronda Rousey has taken a few wrestling "bumps" and is considering beginning her training soon.
 According to sources, WWE had referred Rousey and company to current superstar Brian Kendrick for training purposes in Southern California. You may remember that WWE had referred recently released Eva Marie to Kendrick as well.
Why Ronda Rousey Would Be A Great Fit!
The Brian Kendrick is certainly eccentric, but he's a good trainer. Also, Rousey has the athletic skill-set and the drive to do this. I think she can be a big star. We've already seen several MMA stars make a smooth transition to wrestling. Beyond that, she's a huge star and will bring a lot of attention to WWE. Furthermore, she's also a lifelong fan who isn't just looking for a quick payday (looking at you, Brock).
I welcome Rousey into wrestling. Let's hope she goes through with it. And I loved her in UFC and would cheer for her in the WWE as well.
Ronda Rousey Deal Close To Happening
According to USAToday, Rousey and WWE are close to reaching a deal for Rousey to wrestle. Ronda was last seen at the Mae Young Classic tapings and even challenged Charlotte Flair.
That led to speculation that an official appearance is imminent, perhaps at Wrestlemania 34 in New Orleans on April 8. The WWE did not immediately respond when contacted by USA TODAY Sports on Wednesday.
Do you want Ronda Rousey to wrestle? Share your thoughts in the comments below.
Your Thoughts
comments