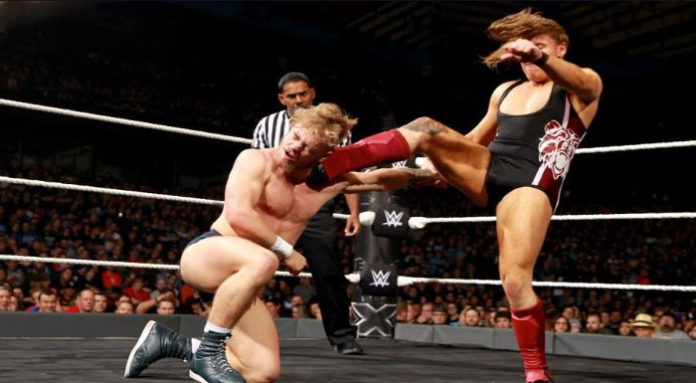 I already looked at the worst matches of 2017, so onto happier things and a look at the best WWE matches of 2017. Do you agree with my list? Read on to find out!
1. Tyler Bate Vs. Pete Dunne at NXT Takeover

My favorite match of the year is undoubtedly the one between Tyler Bate and Pete Dunne at NXT Takeover. This match puts the main roster to shame, so maybe some stars should take some notes from this pair!
2. The Usos Vs. The New Day at Hell in a Cell

The match between the Usos and the New Day may not be in everyone's top five, but it is certainly in mine! The tag teams came up with the most innovative Hell in a Cell match in my opinion, and they kept me on the edge of my seat from beginning to end.
3. Asuka Vs. Nikki Cross in Last Woman Standing Match

Not everyone may have watched this match, but if you haven't, I certainly recommend watching it now! This match was packed with daredevil action, and the skills of each of these wrestlers certainly shone through. This was also one of the few matches where I believed Asuka's undefeated streak could have been broken.
4. Authors of Pain vs. DIY vs. The Revival at NXT TakeOver Orlando

If you are like me and love matches filled with high-speed action and loads of surprises, I am certain that this match will be on your shortlist too. One of the things that made me take notice was the original moves the wrestlers came up with, but also the high level of skill each of the wrestlers showed in this match! Once again, NXT put the main roster to shame with this outstanding match!
5. AJ Styles Vs. Dean Ambrose During Smackdown Live

This list would not be complete without an AJ Styles match. Yes, I might be a little bias, but the man puts down some gems of matches.
One of my personal favorites was the match he had with Dean Ambrose. Surprisingly, this match did not take place during a pay-per-view, but during an episode of SmackDown Live in January 2017! The match was pay-per-view worthy, not only because of the match itself but also due to the interference of other WWE superstars!
What are your favorite matches from 2017? Let us know your top five in the comment section below!
Your Thoughts
Sign Up for a daily briefing from your #1 source for wrestling intel