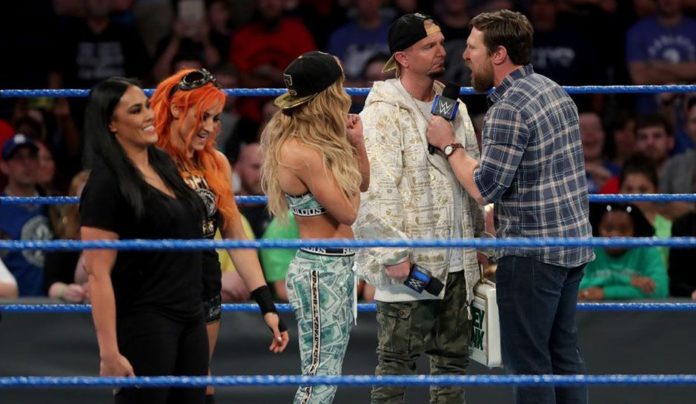 James Ellsworth, the chin-less jobber turned cult favorite has been released by WWE. It is hard to think of a guy who took bigger advantage of such a small moment than James Ellsworth. Originally brought in as a puny wrestler for Braun Strowman to squash, Ellsworth captured the hearts of the WWE universe with his weird look and can-do attitude. He even feuded with Dean Ambrose and AJ Styles over the WWE title for a time and had multiple matches for the championship. Eventually, he moved onto being Carmella's valet/manservant/pet helping her win the Money In The Bank briefcase in controversial fashion.
James Ellsworth's Improbable Run
Ellsworth making it as far as he did, especially in today's WWE is downright unbelievable. He took his puny loser gimmick and ran with it for over a year. Ellsworth was a major player in several big feuds. He became a household name and traveled the world along with WWE.
Several wrestlers and fans took to Twitter to pay tribute to the Chinless Wonder.
Hey @realellsworth dont sweat it man, you had a great journey that most thought u wouldn't have had….go git'em! #FillTheCalendar https://t.co/JVXLq1rkAY

— TAZ (@OfficialTAZ) November 15, 2017
#WWE released James Ellsworth. He went far beyond I think anyone expected. Good on him for running with the opportunity. Not a bad run. pic.twitter.com/c3n921Puht

— Scott Fishman (@smFISHMAN) November 15, 2017
My favourite James Ellsworth moment… LOL pic.twitter.com/WfcS2WTc3N

— Ciaran Urry-Tuttiett (@kiwitutts) November 15, 2017
Ellsworth addressed his release and gave his thanks for the time he had
Thank you @WWE for letting me live my dream,thank you fans for all the support, l'll continue to prove #AnyManWithTwoHandsHasAFightingChance

— James Ellsworth (@realellsworth) November 15, 2017
— MS Money in the BANK (@CarmellaWWE) November 15, 2017
I hope we see Ellsworth back on TV in a few years. He'd be a good nostalgia act. No one can ever take away his success.
Expect to see Ellsworth on a local indie show near you soon. The guy proved he could go in the ring and cut a good promo. He sold being a clueless goofball perfectly. Good luck in your future endeavors, you really earned it and made the most of your spot!
Share your thoughts in the comments below.
Your Thoughts
Sign Up for a daily briefing from your #1 source for wrestling intel