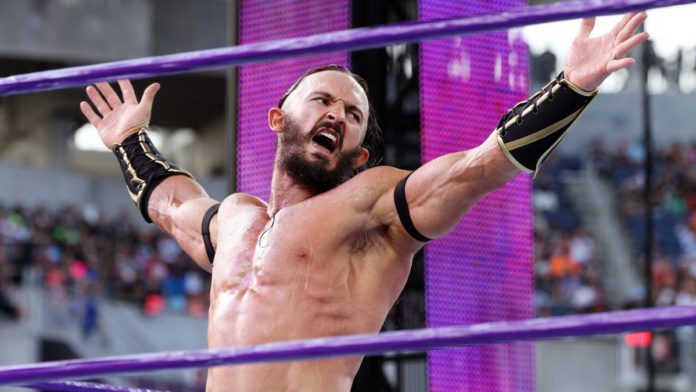 Former Cruiserweight Champion and noted haver of abs Neville was not on Raw or 205Live this week. Rumors are bubbling over as to why The King of The Cruiserweights was not there. But there doesn't seem to be a definitive answer. Here's the breakdown of the story.
The rumor initially came from Twitter account @WrestleVotes.
Breaking News:

Neville (@WWENeville) quit last night. He walked out.

— Pro Wrestling Votes (@WrestleVotes) October 10, 2017
There's no word on who Wrestlevotes is or what sources they have inside WWE. However, the story was investigated further by trusted news outfit ProWrestlingSheet. Here's what they had to say.
Sources say Neville was initially scheduled to lose to Enzo Amore in the main event lumberjack match on Raw. However, plans changed after the ex-cruiserweight champion walked out before the show.
PWS partially confirmed WrestleVotes tweet:
…and most people we've spoken with say there does appear to be some truth in that claim.
PWInsider got a more definitive but not definite answer from WWE sources:
Numerous WWE sources have denied to PWInsider.com that Neville has departed the company.
The Wrestling Observer says that while Neville "quit" it isn't that simple.
Sources confirmed to us that Neville walked out before Raw on Monday and appeared to have quit the promotion, though WWE has officially denied that he's quit.
**UPDATE**
via PWInsider:
*According to two different sources, Neville has pushed for a release with the idea of leaving the company and building his name outside of it, similar to what Drew McIntyre did prior to his return to NXT. Obviously, New Japan would be thrilled to have him back and he'd make a killing on the independent and international scene.
*We have been told there were several factors Neville was unhappy with. One source claimed a souring point was being left off of the Wrestlemania 33 DVD, which meant no royalties from what is traditionally the biggest selling WWE DVD of the year.
Our Take On Neville And The Rumors
All we really know is that Neville was not on TV this week. All the inside news confirms that the high-flyer left the taping of Raw and that WWE changed their plans for the night accordingly.
It is possible that Neville was simply tired of the direction of his character and his taking time off. Or he is just tired of the constant grind wants a bit of rest. WWE has to grant a release of a talent's contract in order for them to leave the company. Normally if a talent really wants to leave, the WWE will cut them lose. This is what happened with Cody Rhodes. But sometimes, WWE will hang onto a talent in order to prevent them from going to work elsewhere. This happened with Rey Mysterio a few years ago and caused him to sit out the remainder of his contract.
If Neville were to be released from his contract, WWE would announce it in a simple "come to terms" press release on their website.
If Neville did indeed walk-out and quit, that is most unfortunate and I think a bad decision on his part. While it is perfectly valid to feel that the cruiserweights weren't given a fair shake, The Man That Gravity Forgot has been at the top of the division. He was pushed to the moon and his Red Arrow is arguably the most protected finisher of any wrestler on the main roster. Hopefully, he is just taking time off and will be back on TV soon.
Should Neville leave WWE? Share your thoughts. 
Your Thoughts
comments