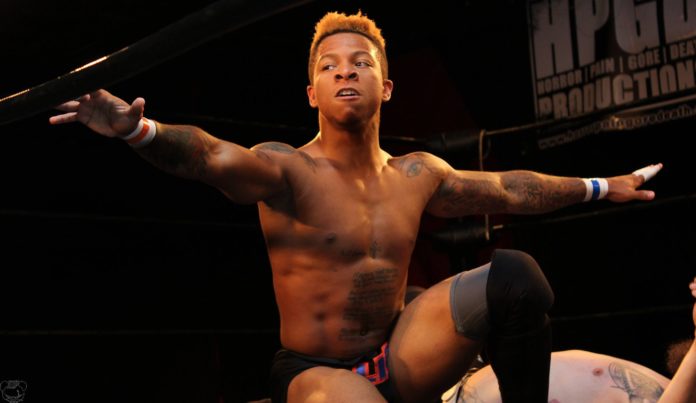 On Sunday, October 29th, WWE released Emma, Darren Young, and Summer Rae. Releases often happen in WWE but rarely in big groups like this. In our previous post, we detailed why they were released and what is probably next for the three. But the releases have seemingly been eclipsed by one poor tweet by recent NXT signee Lio Rush.
Rush exploded onto the scene just a few years ago and is considered a prodigy by many. He's 21 and wrestled for around three years but already earned accolades around the globe. There is a lot of promise and potential in this kid's future, which is why it was so disappointing when he fired off this regrettable "joke" tweet about Emma's release.

Rush deleted the tweet quickly. Fans and fellow wrestlers chastized Rush for his insensitivity over someone losing their job. Then Lio Rush posted a soft non-apology. He acknowledged his "respect" for Emma and then went the classic "sorry if you didn't get my joke" defense.
— M.O.T.H (@itsLioRush) October 29, 2017
But By Then…the Backlash Had Begun!
Rush's tweet created a mob online. Wrestlers and fans alike went after the young high-flyer for his immature and unfunny comment.
Fellow NXT members were quick to chastise their new roster-mate.
We're all brothers & sisters in this dream job, let's act like it.Take it from me, everything is an opportunity. Your call what happens next

— Drew McIntyre (@DMcIntyreWWE) October 29, 2017
Oh, Lio…. pic.twitter.com/le4V6q059C

— WWE Murphy (@WWE_Murphy) October 29, 2017
Wow, kid. Didn't you just get here? Professionalism goes a long way.

— Peyton Royce (@WWEPeytonRoyce) October 29, 2017
Without people like @EmmaWWE & the hard work everyone put in to the foundation of NXT, Lio Rush wouldn't have the platform he does now.

— Bull (@RealBullJames) October 29, 2017
Kevin Owens wasn't a fan of the poorly written statement either.
Reading that made my brain melt. Good luck. You're going to need it.

— Kevin Owens (@FightOwensFight) October 29, 2017
Even BRAY WYATT got in on the action.
You aint gonna make it here with the wolves, kid.

— Bray Wyatt (@WWEBrayWyatt) October 29, 2017
While not excusing his behavior, a few legends came to Rush's defense.
Maybe we should cut @itsLioRush some slack. He made a mistake. He feels terrible about it. He sincerely apologized. He's human. Thanks.

— Mick Foley (@RealMickFoley) October 29, 2017
Class act my young friend! "ROOKIE" mistakes are made to learn from!!! #goodman 👍 @itsLioRush https://t.co/hCCY98iDau

— Scott Armstrong (@WWEArmstrong) October 29, 2017
It was insensitive and out of line. You wanna see insensitive tho' check his comments. Twitter hypocrisy knows no bounds. #MISTAKE #OUDK

— Brian G. James (@WWERoadDogg) October 29, 2017
Unsurprisingly, William Regal gave the most elegant criticism of all.
We all make mistakes.All the people who've had "heat" or problems, have I ever joined in with the pack on you?Perhaps a chat and a bit of guidance would be better.Being a Pro comes in many ways in and out of the ring.

— William Regal (@RealKingRegal) October 30, 2017
What does this mean for Rush?
I don't expect WWE to release him over this. He's too good of a talent, plus this is a silly tweet, and it isn't like he said something offensive or racist. Just classless. I expect he'll have to pay some dues and be humbled a bit, which is what I believe will happen to him in NXT over the next few months. The truth is, the tweet was immature and callous, but the mob that surrounded him over this is just as outrageous. A lot of wrestlers used the opportunity to get themselves a bit of the spotlight and air out some old laundry about a guy who is rising in the wrestling world. Hopefully, Rush will learn and grow from this experience.
Was Lio Rush in the wrong? Share your thoughts in the comments below.
Your Thoughts
Sign Up for a daily briefing from your #1 source for wrestling intel