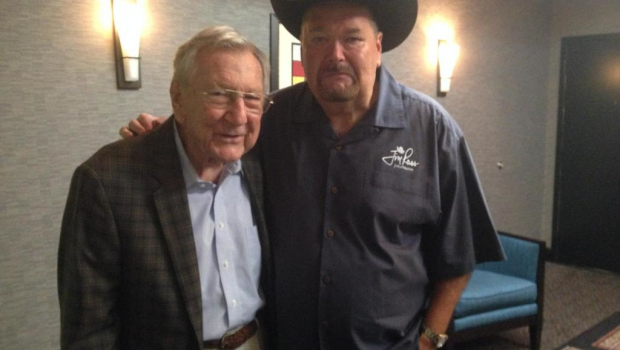 Lance Russell was the voice of Memphis Wrestling for over 30 years. He commentated legendary matches and feuds featuring Jerry "The King" Lawler, "Superstar" Bill Dundee, Ric Flair, Adrian Street, Kamala, Jimmy Valiant and others. He also interviewed dozens of wrestlers throughout his illustrious career.
Russell is 91 and experiencing a few health problems. He needs our prayers.
ICYMI: Lance Russell's daughter passed away today and Lance is hospitalized due to complications from a fall. Just heard this news.

— Dr. Dutch (@DirtyDMantell) September 30, 2017
Good thoughts appreciated for my great friend @MemphisLance & his family. It has been a most difficult day.

— Dave Brown (@davebrown5555) September 30, 2017
Sending our thoughts, prayers, and love to the legendary Lance Russell & his entire family. @MemphisLance pic.twitter.com/yAsoauapxO

— Brandon Baxter (@BrandonOnKFIN) October 1, 2017
Prayers for our friend..an American treasure..@MemphisLance.. https://t.co/seynRYv8ky

— Jim Ross (@JRsBBQ) October 1, 2017
Lance's son took to Twitter to update fans.
Lance's son here, just a quick update. Dad is out of pain but is really struggling. Thanks for all of your thoughts and prayers!!

— Lance Russell (@MemphisLance) October 1, 2017
Lance Russell's Career
Russell was not just the voice of Memphis wrestling, he was also a television executive for several Memphis and Western Tennessee television stations. He worked in NWA/WCW from 1989-1992 before coming back to Memphis television.
Russell was distinguished for his calm, professional style.
But he wasn't afraid to get passionate when need be.
and had a great sense of humor!
He worked with Dave Brown, a Memphis meteorologist, on Memphis televised wrestling for over 20 years.
He's still beloved in Memphis to this day. Listen to the ovation he received when he was brought out to a Raw taping by fellow Memphis legend Jerry "The King" Lawler.
Share your Lance Russell memories in the comments below. 
Your Thoughts
Sign Up for a daily briefing from your #1 source for wrestling intel