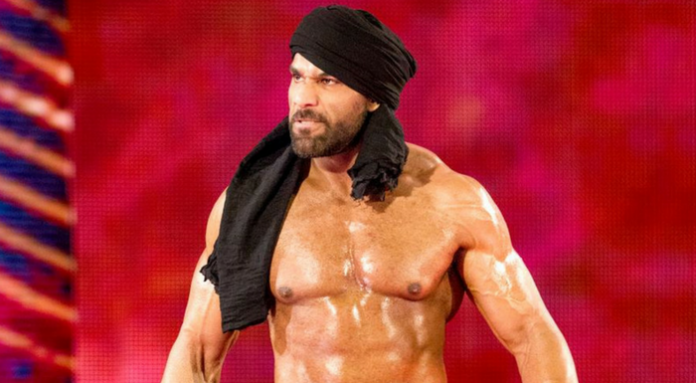 WWE Champion Jinder Mahal is still riding high following his defeat of Shinsuke Nakamura at Hell in Cell, and he recently called out none other than John Cena for a match at WrestleMania 34.
Mahal called out Cena during an "ask me anything" session on Twitter. When someone asked who he'd like to face at WrestleMania, Mahal wasted no time:
"At WrestleMania 34, I would like to face John Cena. It could happen because I fully intend on being WWE champion at WrestleMania and even after WrestleMania. John Cena, consider this an official challenge to you."
.@PhenomenalMk#AskJinderpic.twitter.com/OxKfYqhMhJ

— WWE (@WWEIndia) October 15, 2017
H'oh boy.
I know I'm not the only fan who isn't thrilled at the prospect of Mahal still being champion come WrestleMania – and luckily for us, it's likely that he won't be.
WARNING: There are potential spoilers for Survivor Series and beyond after this point!
Rumored Plans
Mahal has been WWE Champion for 148+ days, and while he thinks he'll surpass CM Punk's historic 434-day reign, the rumor mill indicates otherwise.
According to a recent "rumor roundup" report from Cageside Seats, AJ Styles is being considered as Mahal's next challenger after Survivor Series (per the Wrestling Observer, Mahal is set to face Brock Lesnar in a non-title match at Survivor Series).
If this is true, it's fantastic news. Hopefully Styles will defeat Mahal and then go on to feud with Nakamura, because that's the WrestleMania match we all deserve.
However, it should be noted that Mahal is also scheduled to defend his championship against Kevin Owens at a pair of house shows in India in December. We'll just have to wait and see if that feud continues; but whether it's Owens or Styles, the point is that Mahal will be hard pressed to hold on to the WWE Championship through WrestleMania.
As for Cena, his future is more unclear; he's currently busy filming the Transformers Bumblebee spin-off and won't return to WWE until December. It's also unclear who would be available to face him: It seems likely that Lesnar will face off against Roman Reigns at WrestleMania. And while all the above technically indicates that Mahal and Cena would be free to square off at WrestleMania, I fully expect the Modern Day Maharaja to fall back into obscurity as soon as he drops the title, therefore making him an unworthy opponent for The Champ at the biggest pay-per-view of the year.
Despite the utter unlikelihood of the match, however, it's no surprise that Mahal called out Cena. He's the champion, and he's been the champion far longer than anyone expected. Why wouldn't he call out the best of the best? It's right in line with his character as a cocky heel with a chip on his shoulder.
But I'd be lying if I didn't say I was happy that there's no chance in hell of this match happening.
What do you think of Jinder Mahal's challenge of John Cena? What do you think will happen post-Survivor Series? Share your thoughts and comments below!
Your Thoughts
Sign Up for a daily briefing from your #1 source for wrestling intel