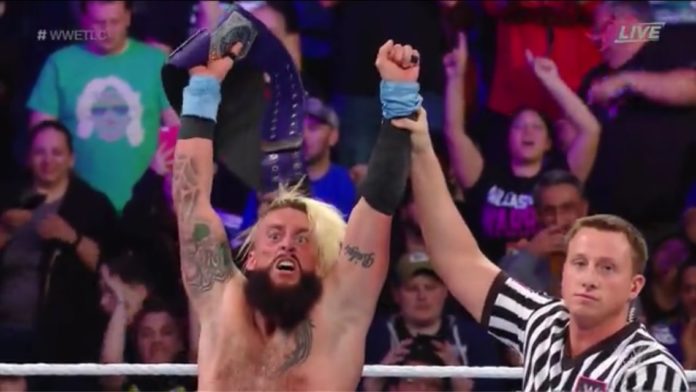 We're watching TLC, already one of the stranger PPVs of the year. While the main event will feature the return to the WWE ring of Kurt Angle, there were plenty of other intriguing match-ups on the card. Kalisto squared off against bad-guy and guido trash-leopard Enzo Amore for the Cruiserweight Title.
The match was standard until Enzo decided to grab for the ring curtain. While the ref attempted to replace the curtain Enzo CLAWED at the eyes of the high-flying luchador. This temporary blindness led to a shallow victory.
#205Live is anything but S-A-W-F-T…@real1 #WWETLC pic.twitter.com/5OSUzoYeF2

— 205Live (@WWE205Live) October 23, 2017
Cruiserweights and their fans continue to be despondent
Of course, people were not excited about this.
👍👀👏🏻😂 #WWETLC

— Austin Healy Aries (@AustinAries) October 23, 2017
Disregard the miracles. #TLC

— Mustafa Ali (@MustafaAliWWE) October 23, 2017
Enzo already is a 2 time Cruiserweight champ wow pic.twitter.com/5UzuQErKfi

— bad hombre (@TeeHaitchGee) October 23, 2017
However, this cruiserweight division hasn't been this popular or talked about since it debuted over a year ago. Regardless of what you think about him, Enzo is getting eyes onto 205 Live in a way others couldn't. Also, he isn't out-wrestling the competition, he's cheating and being a heel. This is how you make other guys good. Look for Mustafa Ali to get a title shot next. He's sure to be one of the biggest stars in the Cruiserweight division.
Share your thoughts on this in the comments below.
Your Thoughts
Sign Up for a daily briefing from your #1 source for wrestling intel