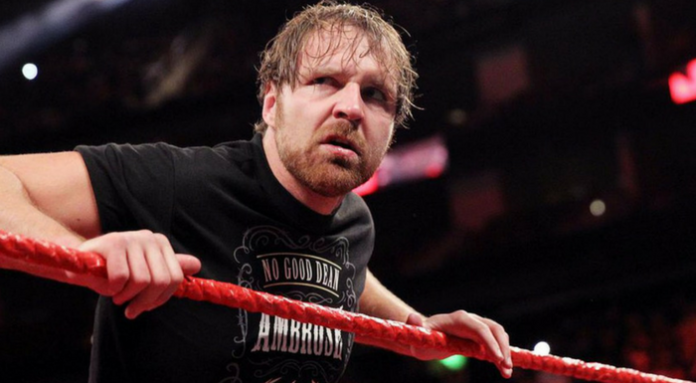 3. He and Renee Young eloped in their backyard… at 1 a.m.
It's no secret that Ambrose and WWE's resident backstage interviewer Renee Young are an item, but unlike other WWE couples they've kept their relationship pretty private. Case in point: they were legally married for nearly two weeks before the news came out – and their wedding ceremony was exactly what you'd expect from Ambrose.
Young explained to E! News that they'd already had a marriage license for six months when they decided out of the blue to elope in their backyard at 1 a.m., courtesy of a pastor they found on Yelp:
"We were going to bed! We were going to bed and he like busted out the ring and we were like, 'Oh man I guess we should do this now.' So we ended up going on Yelp and we found a 24-hour pastor to come to our backyard. It was so handy and his name was Pastor Pete and he lived around the corner from us, so he was there. They were very concerned by the way because it was 1 o'clock in the morning, so technically it was Sunday and they were very concerned about us calling, they were like, 'Is everything OK? Have you guys been drinking? What's happening?' We're like, 'It's fine, you can come down.' So we had to get a witness and we called and woke up a friend of ours and got it done."
Yup, sounds about right.
2. His favorite wrestler growing up was Bret Hart
If Terry Funk were dead, people would say that Dean Ambrose is Funk reincarnated. However, while Ambrose initially got hooked on wrestling thanks to his discovery of ECW, it wasn't Funk who he idolized – it was Bret "The Hitman" Hart.
In a 2015 interview, Ambrose revealed that he "was never a Hulkamaniac" growing up, and that he liked Hart because "he was the realistic, relatable guy" among a "giant litany of bullies" who always found a way "to outsmart them, out trick them, outlast them." Considering Ambrose's rough upbringing, it's no wonder he liked those qualities about Hart.
1. He's the longest reigning United States Champion in modern WWE history
Currently, Ambrose and Seth Rollins are the reigning Raw Tag Team Champions and Roman Reigns is in pursuit of the Intercontinental Championship. But during The Shield's first run, it was Rollins and Reigns who were the tag champs – and Ambrose became one of the most successful United States champions history.
At 351 days, Ambrose is the longest-reigning United States Champion under the WWE banner. He's also the third-longest reigning U.S. Champion overall, behind Rick Rude (378 days) and Lex Luger (523 days).
There it is – five fast facts about Dean Ambrose? Did you learn anything new or unexpected about the Lunactic Fringe? Share your thoughts and comments below!
Your Thoughts
comments