WWE Studios and TriStar Pictures have a Vince McMahon biopic in the works, and Guardians of the Galaxy star Bradley Cooper has reportedly been offered the leading role.
According to PWInsider, producers of the film – titled Pandemonium – are attempting to attach an A-list actor to the project in order to get it fast-tracked, and they reached out to Cooper "several weeks ago":
An offer was made several weeks ago to representatives of Academy Award nominee Bradley Cooper with the idea of Cooper starring as McMahon, according to a well placed source familiar with the project.   Whether Cooper is receptive to the idea remains to be seen, but PWInsider.com has confirmed the offer was made.
It makes sense that WWE would reach out to Cooper. Not only does he have professional ties to former WWE Superstar Batista, but he also appeared on a June 2010 episode of Monday Night Raw to promote his film, The A-Team.
And after all, John Cena agrees that Cooper has the right look to play the WWE chairman.
Believe it or not, the McMahon biopic actually didn't start off as a WWE Studios project. Craig A. Williams, who wrote the script for Disney's live-action version of Underdog, wrote the initial script to Pandemonium back in 2015. However, now that WWE Studios is involved, it remains unclear how much of Williams's script will be rewritten; and based on a summary of the script, again from PWInsider, I can't say I'd blame McMahon for wanting to rewrite it. Williams took numerous creative liberties with the McMahons' early lives, including portraying young Linda McMahon as a waitress in a "nudie bar."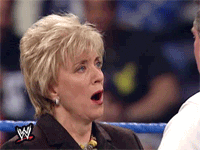 Vince McMahon's real life is movie-worthy enough without all the added sex, drugs, and rock 'n' roll, of which the Williams script has all three. But the directors of the project give me renewed hope that it won't be so sensational: Glenn Ficarra and John Requa directed the pilot of NBC's runaway hit This Is Us, as well as the Tina Fey film Whiskey Tango Foxtrot.
Would you go see the Vince McMahon biopic in theaters if Bradley Cooper is involved? Do you think he's a good pick to play McMahon? Share your thoughts and comments below!
Your Thoughts
Sign Up for a daily briefing from your #1 source for wrestling intel