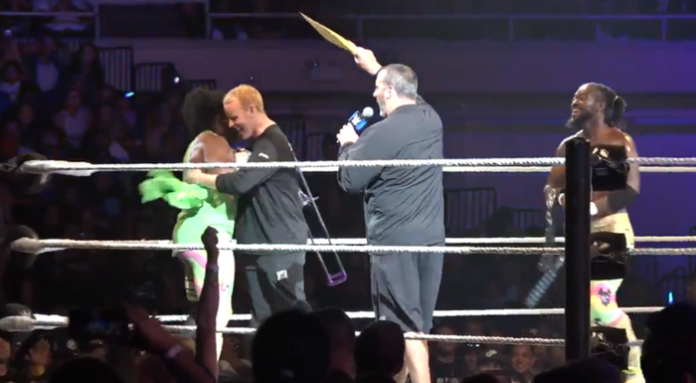 There's a long tradition of surprising walk-on college football players with full scholarships in unique and creative ways, but University of Hawaii football coach Nick Rolovich just upped the game to a whole new level.
At the SmackDown house show in Honolulu on Wednesday, Rolovich surprised walk-on player Hunter Hughes with a full ride… in the middle of the ring… with the help of The New Day. And, appropriately, Rolovich told Hughes he had to "dance for it."
Hunter Hughes, you gotta dance for it they say! Full scholarship handed out by @NickRolovich at #WWEHonolulu tonight! @HawaiiFootballpic.twitter.com/r7espcYrWw

— Brandi Higa (@bhiga12) September 14, 2017
#HawaiiFB's @HawaiiFootball Hunter Hughes receives a scholarship with the help of @NickRolovich & WWE's The New Day! #WWEHawaii#WWEHonolulupic.twitter.com/K9tbU6vRpm

— Andrew Lee (@AndrewLeeHI) September 14, 2017
It's over, Rolovich wins. No scholarship reveal could ever top this.
What a night #blessed#warriorforlife

— Hunter Hughes (@HunterHughes_12) September 14, 2017
This is one of the myriad reasons I absolutely love WWE. They're always willing to give back to their fans, whether that means granting wishes or standing up for an entire nation.
Congratulations, Hunter! Also, I have to steal this from SB Nation's Jason Kirk: he's now "Hawaii's Hunter Hughes," which makes him the new Triple H.
If Hughes's teammates don't nickname him that, they're doing it wrong.
What do you think of The New Day's scholarship reveal? What other things does WWE do for their fans that you enjoy? Share your comments below!
Your Thoughts
Sign Up for a daily briefing from your #1 source for wrestling intel