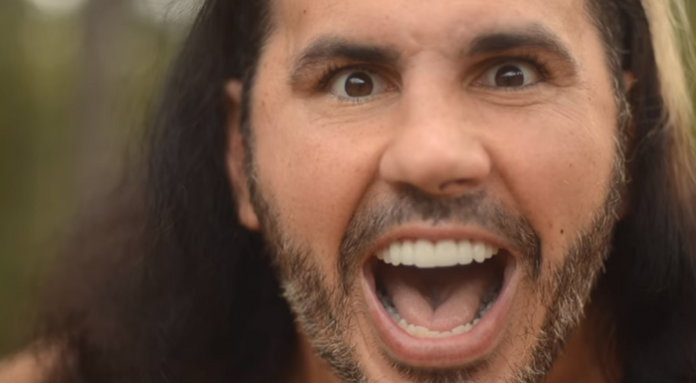 No, that's not a typo in the headline. Per a new online promo, Matt Hardy appears to have gone from "broken" to "woken" – and skirted the legal mess surrounding his Broken Universe in the process.
Thursday evening, Hardy shared a short online promo that sounded an awful lot like his Broken Matt persona. But instead of using catchphrases like "delightful" and "delete," he urges viewers to "feed me your energy" and "get woke, stay woke."
Watch below:
That's definitely a repackaged Broken Matt. And a rose by any other name would smell as sweet, right?
You might have missed it, but this actually isn't the first time Hardy has teased the woken persona. He first made references to feeling "woken" and an "awakening" during an exclusive RAW fallout video on July 31:
Two days later, he tweeted, "The AWAKENING of ENLIGHTENMENT has begun.."
The AWAKENING of ENLIGHTENMENT has begun..

YEEEEAAAAAAAAASSSSSS…..

GET WOKE! pic.twitter.com/nF8fukkpuk

— REBORN by FATE (@MATTHARDYBRAND) August 2, 2017
It should be noted that, because this new "feed me your energy" promo didn't appear on RAW or an official WWE social media channel, it's uncertain whether it will be recognized by WWE. But when you take into consideration the RAW fallout video from July, it certainly seems that WWE could be moving toward an awakening.
As for "Woken Matt Hardy," "get woke, stay woke" hardly has the same ring to it as "DELETE!" But if there's anyone who's proven to be a master of reinvention, it's Matt Hardy.
What do you think of Matt Hardy's new promo? Would you like to see Woken Matt Hardy fully realized in WWE? Share your thoughts and comments below!
Your Thoughts
Sign Up for a daily briefing from your #1 source for wrestling intel