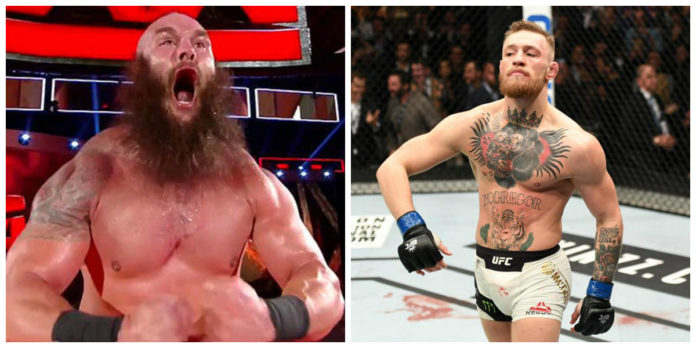 What's next for Conor McGregor? After shattering revenue records with his "boxing match" against Floyd Mayweather, the MMA global superstar is looking for a new challenge. Perhaps that means joining up with the WWE? While that seems far-fetched, the barrier between MMA and wrestling is becoming increasingly blurred. Ronda Rousey and others are making the transition to the squared circle.
How would McGregor do? He certainly has the personality and athleticism. But Braun Strowman has a message for the Notorious One. Stay out of his way.
via. SI.com:
"McGregor might make it on 205 Live," said Strowman, before warning, "but he doesn't want to step in the ring with me."
Braun joins the Miz in challenging McGregor but cautioning him at the same time. Obviously a lot of this is bravado. But there is truth to it. Wrestling isn't something you can just dive into. You have to train and learn to perform it well. Even some of the best athletes take years to become good professional wrestlers. All-American wrestlers come to the Performance Center and spend 2-3 years learning the basics before they're ever put on television.
Strowman also discussed his relationship with Roman Reigns and what animal he would love to fight.
"The silverback gorilla," said Strowman. "Without a doubt, that has to be the baddest creature on the face of this earth next to me."
Will Conor McGregor Ever Wrestle?
"Never say never" but I wouldn't expect it in the near future. McGregor is the most bankable star in combat sports right now. He can demand a lot of money and pick the fights he wants. Before he steps into the WWE ring there are several boxing and MMA fights that lay before him. Boxing against rival Paul Malignaggi and finishing his "trilogy" with Nate Diaz have to come first. It wouldn't surprise me for Conor McGregor to make a cameo at Wrestlemania. But nothing beyond that for now. He has a lot more fight left in him.
What do you think? Would you want Conor McGregor in WWE? Share your thoughts.
Your Thoughts
Sign Up for a daily briefing from your #1 source for wrestling intel