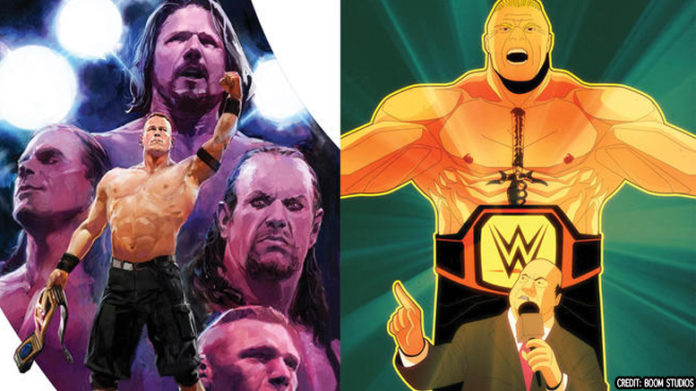 Hard to think of a wrestler who has had a better start to their WWE career than AJ Styles. From his surprise debut at the Rumble to becoming WWE Champion, Styles has been a top guy since debuting in the company that long shunned him for being too small. WWE has decided to tell the story of the Phenomenal One's rise in a unique way.
Via CBSSports:
In honor of Styles' memorable first day on Jan. 24, 2016, WWE has partnered with Boom Studios, creators of the WWE "Then. Now. Forever." comic book series, to go behind the scenes and illustrate the real-life journey of "The Phenomenal One."
Styles joined forces with Michael Kingston, who created the pro wrestling comic book "Headlocked," to co-write "The Debut of AJ Styles." The story will be part of the Boom Studios' WWE Royal Rumble 2018 Special series that goes on sale Jan. 10.
Kingston is a phenomenal (pun intended artist) who has worked with Jerry Lawler on the Headlocked comics. We got to listen to him and King talk about the crossover between comics and wrestling at AwesomeCon a few months back.
Here's what AJ had to say about it the comic and his rise.
This was such an important night in my career. I think you can get what I kind of went through during that day and what took place and how I felt," Styles told CBS Sports during an appearance on the "In This Corner" podcast. "It was pretty unbelievable that day. Not many people have a debut like I had in WWE, so we are just going to take them down that road and it's an emotional, very cool and exciting road."
The comic will also cover other monumental moments in Rumble history:
… including Flair's 1992 victory and Shawn Michaels going the distance in 1995.
I can't wait to read this. Share your thoughts on this in the comments below.
Your Thoughts
Sign Up for a daily briefing from your #1 source for wrestling intel