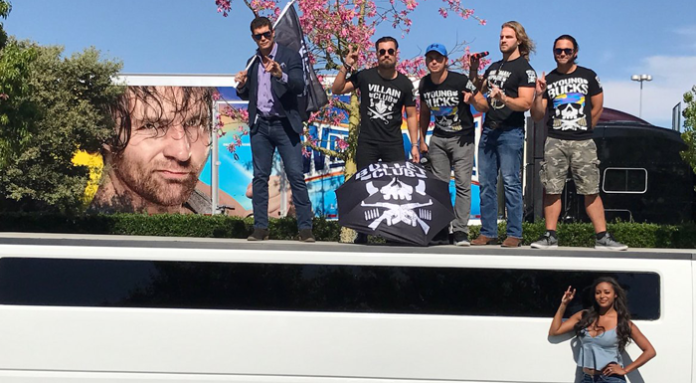 Last night, Monday Night Raw was broadcast live from Ontario, Calif., just east of Los Angeles. L.A. is a great wrestling city, and whenever WWE is in town the stars always turn out for the show.
However, this week there were some stars of a different variety at Monday Night Raw:
You guys think we're playing……#BCInvasionpic.twitter.com/TKKIqqG3NN

— The Young Bucks (@NickJacksonYB) September 25, 2017
Yes, that's Bullet Club – specifically, Matt and Nick Jackson, Marty Scurll, Adam "Hangman" Page, and Cody Rhodes, along with his wife Brandi – standing atop a limousine outside the Citizens Business Bank Arena, where Raw was held Monday night, seemingly preparing for an invasion.
But before you think the #BCInvasion was anything like the D-Generation X Invasion of WCW in 1998 – it wasn't. What it was was the culmination of a storyline crafted for the Young Bucks' "Being The Elite" YouTube series. For weeks now, the Young Bucks have been claiming that WWE is at war with them, doing evil corporate things like issuing a cease and desist order for the Bucks' use of the term "suck it," kidnapping their friends, and even bringing Adam Cole back from the dead. So, in a nutshell, the #BCInvasion was their (storyline) attempt to stand up to WWE – and yes, there's a video. Watch below.
Well, after watching that I have to say I'm glad Kenny Omega wasn't involved because it would have ruined him for me a little bit.
Don't get me wrong: I like the Young Bucks and support what they're doing with "Being the Elite." However, for a while now they've been outright boasting about how well they're doing despite not being in WWE – and they're not wrong. They're among the most successful non-WWE wrestlers on the planet. Why, then, are they going to such desperate lengths to get WWE's attention? It just seems a bit cheap.
Furthermore, I can't help but feel like Cody Rhodes still has a bit of a chip on his shoulder about his time in WWE, and that attitude is seeping out into the rest of Bullet Club.
A cursory glance at the comments on the above Instagram photo makes it perfectly clear that many Young Bucks/Bullet Club fans think WWE is trash. It's unfortunate, especially during a time when WWE is becoming remarkably friendly with the independent circuit – and it's even more unfortunate that Bullet Club is feeding their fans' negative attitude. What would Finn Balor think?
Look, I get it: nostalgia is in, and many fans still long for the days of the Monday Night Wars. But the pro wrestling landscape is far different now than it was in the 1990's. Can't we all just get along, for the good of wrestling fans everywhere?
What did you think of the #BCInvasion? Did you like it or not so much? Share your thoughts and comments below!
Your Thoughts
Sign Up for a daily briefing from your #1 source for wrestling intel