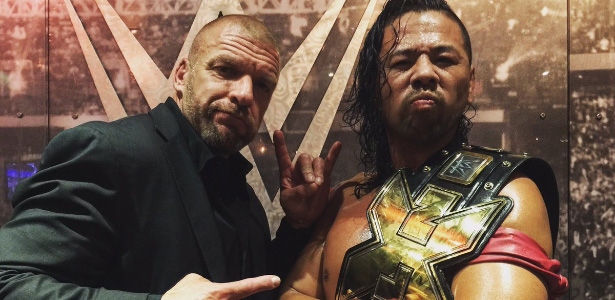 At Summerslam, Shinsuke Nakamura wrestled Jinder Mahal for the WWE Championship. It has been a meteoric rise for the King of Strong Style, who debuted on the Smackdown Main Roster the week after Wrestlemania Orlando/Disney/Rollercoaster. But a lot of fans' reaction to Nakamura's ascendancy has been "what took you so long?" Nakamura was a main event star in his native Japan, but when he came to WWE he had to start all over in NXT. Fans who saw Nakamura dominate in New Japan were instantly skeptical and wondering if WWE was just doing it to mess with him. Triple H put the rumors and speculation to rest. In an interview with NBCSports, The Game explains why Nakamura, Samoa Joe, and other big stars from outside of WWE needed to come to NXT first for a little training and polish.
"I cannot over-emphasize the difference WWE and any place else and I mean any place. While Nakamura had success and you can talk about Japan. They do a stadium show here and there, but it's just a totally different world. It really is. How we approach it, how we do it, while he's a big star in Japan, the level of what we do and the global nature of what we do is a big transition."
In Japan, they do just a handful of big arena shows a year. In WWE it is every week, twice if it is a PPV week. Also, a difference in Japan is the workload. While on your, most matches are multi-man tags where a wrestler only need to work for a few minutes. In WWE you're working more often and as a singles competitor. From a physical and cardio standpoint, the transition is huge.
But Shinsuke Nakamura's transition allowed him to succeed.
"It takes time, but the greats will rise and I think that's what you're seeing in [Samoa] Joe, I think that's what you're seeing in Nakamura. When fans ask 'why does somebody like that have to go to NXT?' because that's the transition point. They have to learn that. If they went straight in [to the main roster] it would be overwhelmingly difficult and guzzle them. Anybody that's come through and done it has stated the same thing."
Do you agree with Triple H? Did Nakamura need to spend his time in NXT? Share your thoughts in the comments below.
Your Thoughts
Sign Up for a daily briefing from your #1 source for wrestling intel