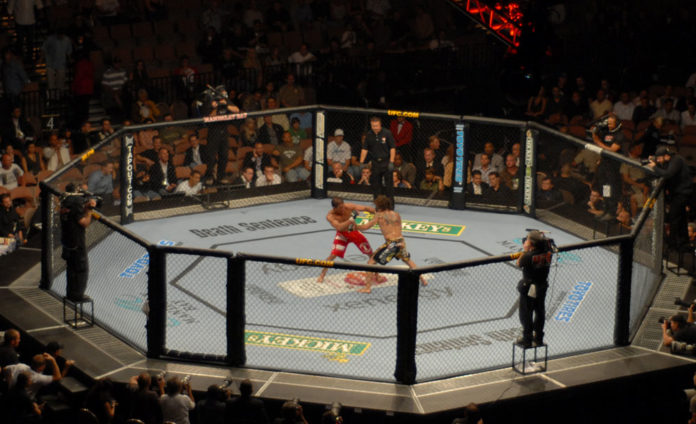 MMA stars transitioning to pro wrestling. It seems to be all the rage. Not since the Shamrocks and Dan Severn in the early 90s has there been such a blurred line between mixed-martial arts and professional wrestling. With Ronda Rousey considering a jump and her friend Shayna Baszler dominating the indie scene, it seems like a matter of time before more MMA stars make the move. Enter UFC Hall of Famer Stephan Bonnar. The Light Heavyweight legend and runner-up of the first season of The Ultimate Fighter is 40 but still in great shape. Bonnar makes his pro-wrestling debut later this month.
Bonnar will be a 40-year-old rookie in his new endeavor, when he debuts in the main event of a show called "High Intensity 6" on Aug. 18 at the NYC Arena in the Jamaica neighborhood of Queens, N.Y., for the House of Glory wrestling promotion. Bonnar will be facing Matt Riddle, another former UFC star who was the 2016 pro wrestling Rookie of the Year and one of the most talked about newcomers to enter American pro wrestling in years.
I think this is great for Stephan Bonnar and great for wrestling. Retired fighters finding a second career in wrestling is common in Japan. The athleticism and skill sets are similar between the two competitions.
Other MMA stars try wrestling
A few weeks back I watched former UFC star Tom Lawler wrestle at an indie show. He brought a corner man and a sponsor-filled banner similar to what you'd see draped over the Octagon wall. He looked good and he looked professional. Not only that, but he's a cool guy to talk to!
Bonnar is wrestling Matt Riddle. Riddle has taken the wrestling world by storm over the last two years. He might be the best transition to pro wrestling since Kurt Angle. Riddle has some attitude and drug problems, but he's still a massive draw on the indie scene. Should be a great match!
Do you think more MMA stars should try out wrestling? share your thoughts in the comments below. 
Your Thoughts
Sign Up for a daily briefing from your #1 source for wrestling intel