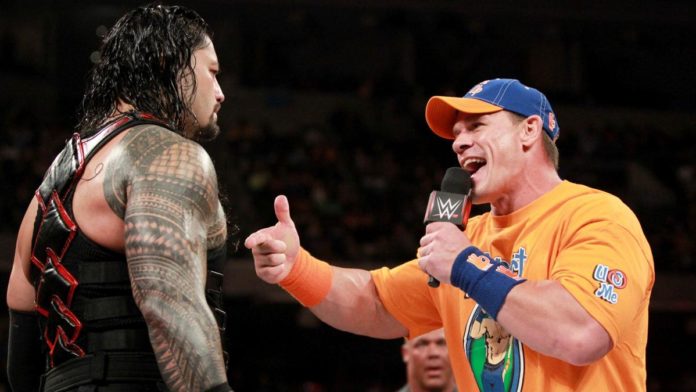 One of the most anticipated matches for No Mercy, at least according to the WWE, will be Roman Reigns versus John Cena. With an amazing promo, the crowd seems to be warming up to the match that nobody truly saw coming. Still, we have to ask the question to our readers: Roman Reigns versus John Cena at No Mercy – yay or nay?
Cena Being Pushed in the Past, Is He Doing the Same for Roman Reigns?
Cena is a man who has been pushed by other legends in the past; this includes JBL and HBK. Since Cena had these opportunities, it would only be natural for Cena to put over Roman Reigns this time.
However, is it time for another Roman Reigns push so shortly after a failed push? One thing is certain, the WWE is facing a major decision, because who would win? Super Cena or Super Reigns?
Retiring the Undertaker
One of the most unfortunate things to happen in WrestleMania history is the end of the Undertaker's career, which Roman Reigns takes credit for. Still, by retiring the Undertaker, arguably the most legendary wrestler to have ever lived, could he really afford to lose to John Cena?
Roman Reigns defeating the Undertaker was shortly mentioned during the promo with Cena, to which Cena responded he beat an injured man at the end of his career. Needless to say, neither of these statements were well received.
Locker Room Leader
Another reason for Reigns to take the victory from Super Cena could be his rumored backstage role as locker room leader, a role attributed to the Undertaker until his retirement. Being the locker room leader makes a wrestler the undisputed top guy, but does this mean he should get the victory over John Cena?
Whether you love or hate him, it cannot be denied that Reigns is going to have a long career in the WWE. Despite many wrestling fans being sick of him being pushed, including me, he is starting to gain respect from even the harshest wrestling critics!
My Opinion
If I am completely honest, I could not have cared less about a possible match between John Cena and Roman Reigns. However, the promo changed everything in my book and I am now quite excited about this match.
Of course, one does have to wonder who is going to take the fall. If John Cena takes the fall, it puts an emphasis on Roman Reigns' career as top dog, proving once again that the WWE is his yard. However, if John Cena takes the win, it could mean that the Roman Reigns push is completely over.
Taking all this into account, we cannot forget that the WWE's original plan was for Reigns to take the title from Brock Lesnar at WrestleMania. Given the many people that have been fed to Lesnar over the months, it seems like that plan is still in place. So, is Cena going to lose to put Roman Reigns back into the title picture?
What do you think about this match for No Mercy? Are you interested? If so, who do you want to win? Let us know in the comment section below. We look forward to reading it!
Your Thoughts
Sign Up for a daily briefing from your #1 source for wrestling intel