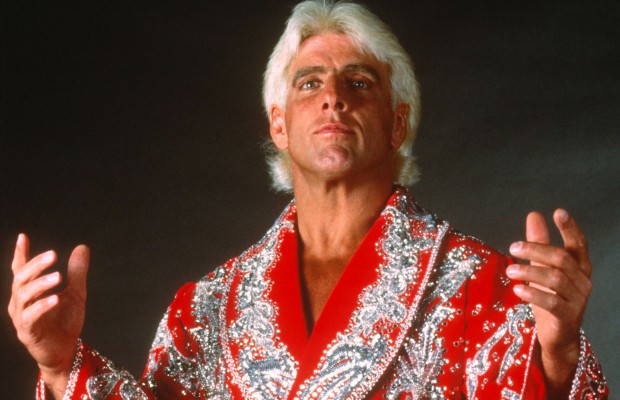 Ric Flair is currently in the hospital for an undisclosed illness. The wrestling world has shown an outpouring of love and support for the Nature Boy. Updates have been sparse. It is believed Flair was having heart problems and was admitted to the ICU. Now we are learning more. Unfortunately, Flair's prognosis is not good. He needs us to rally around him with love, prayer, and support.
More via TMZ:
Ric Flair is in a medically induced coma and is preparing for surgery … a rep for the WWE tells TMZ Sports.

The 68-year-old wrestling icon was admitted to the hospital early Saturday morning and the situation has gotten more serious.

We're told Flair is set to undergo a procedure momentarily, though we're not being told what the procedure is … though Pro Wrestling Sheet is reporting that it's a heart related issue.
Get well soon Naitch. You can fight this and win! Throughout the wrestling world, stars have sent out their support to the Nature Boy.
Dave Meltzer reported that Flair is out of surgery but the condition is still very serious.
Just hearing all this news about @RicFlairNatrBoy sending every ounce energy to #TheMan and asking that all of you do the same #NeverGiveUp

— John Cena (@JohnCena) August 14, 2017
Prayers up for @RicFlairNatrBoy . Kick out on two and 1/2 like you always did

— Scott Hall (@SCOTTHALLNWO) August 14, 2017
Sending lots of love to @RicFlairNatrBoy and his family today. We're thinking of you Naitch ❤️

— Renee Young (@ReneeYoungWWE) August 14, 2017
My thoughts and prayers are with Ric Flair and his family during this difficult time.

— Samoa Joe (@SamoaJoe) August 14, 2017
Sending my love and prayers to @RicFlairNatrBoy and his family.

— $asha Banks (@SashaBanksWWE) August 14, 2017
My wife @BrendaKayPage and I are sending our thoughts and prayers out to our good friend @RicFlairNatrBoy Please pray for Ric🙏🏻 DDP

— Diamond Dallas Page (@RealDDP) August 14, 2017
Fingers crossed for Nature Boy! Hang tough 60 min man.

— Honky Tonk Man® (@OfficialHTM) August 14, 2017
We will keep you updated on this story as it develops. 
Your Thoughts
Sign Up for a daily briefing from your #1 source for wrestling intel