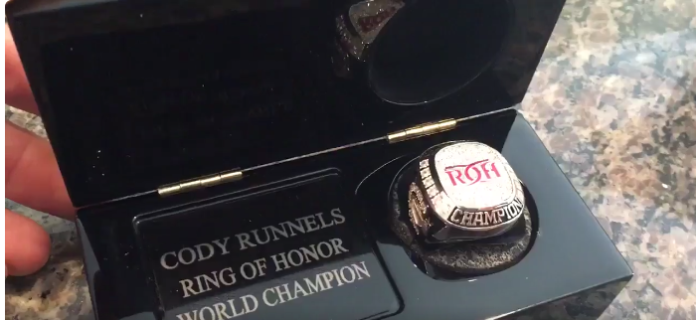 Cody Rhodes has been having a KILLER time on the indies since leaving WWE. He is wrestling all over the world and is currently the Ring of Honor World Champion. He celebrated his victory and reign on top of Ring of Honor in the most baller way I've ever seen someone celebrating a wrestling championship. Not satisfied with having the title belt, Rhodes decided to go all out. He got a LITERAL RING to celebrate being the champion of Ring of Honor. Check out the awesome reveal below.
For those who've asked for a closer shot of the "Ring Of Honor"…

BLOWN AWAY at the efforts of @ringofhonor & @TerryberryCo #KissTheRing pic.twitter.com/GF4xJ8yNSX

— Cody Rhodes (@CodyRhodes) August 28, 2017
Congrats Cody. Will see him back in WWE anytime soon? I doubt it. He's having a blast on the indies and he's regained his love of wrestling. Also, he's apparently making more money now than he did with WWE. GO GET IT!
Are you a fan of Cody Rhodes? Share your thoughts.
Your Thoughts
Sign Up for a daily briefing from your #1 source for wrestling intel