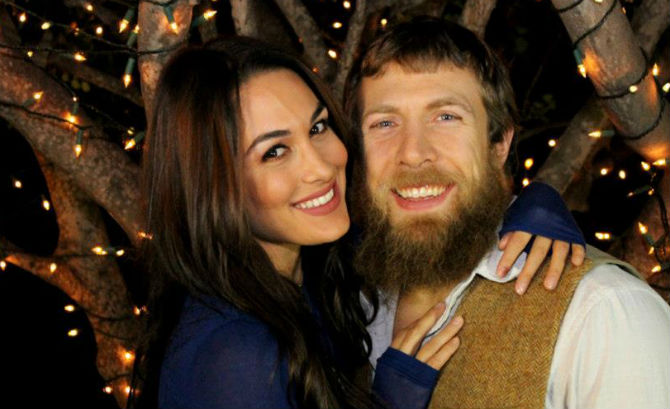 Daniel Bryan has said on multiple occasions that he wants to wrestle once his contract with WWE is up sometime in the next few years. Due to multiple concussions, WWE declared Bryan medically disqualified and forced him to retire. Bryan still thinks he can go in the ring and is willing to assume the risk out on the indies.
But what does his wife Brie Bella have to say about this? She gave Bryan her blessing on a recent podcast.
"And I told Bryan, 'You do have a daughter, so always remember that. But if the doctors finally give you the green light,' I go, 'Go! This is your dream and passion. You have one life to live and I will never hold you back.'" Adding, "Because I love to wrestle, and I would hate if someone told me you can't do it. And if WWE doesn't allow it, then I said, 'Go somewhere else. It's all on you.' Obviously he would love to be able to get back in that WWE ring, but I know for a fact my husband is going to find his way back to the ring. He honestly is."
You can listen to the entire podcast here.
Personally, I believe Bryan doesn't and shouldn't need to wrestle again. He's been to the top of the wrestling world and secured his legacy as one of the best. He main evented Wrestlemania while having one of the greatest underdog runs in wrestling history. His injuries already sidelined him, and WWE's doctors told him he shouldn't wrestle again. Why risk it? Why do more irreparable damage to yourself, especially now that you have a wife and child to care for? Bryan can't act this selfishly.
I won't support Daniel Bryan's wrestling career
At the end of the day though, it is his decision. If he wants to wrestle, and his wife supports him, what will stop him? Ring of Honor, New Japan, and any wrestling company that can scrounge up the money will pay Bryan a ton of money to wrestle. The crowds and the publicity would be huge. But I will not be there. I won't attend, and I won't watch Bryan wrestle again. My conscience won't allow me to support someone being so irresponsible. I don't want to see him confined to a wheelchair or a memory ward because of the repeated injuries to his head. For the sake of his health and the sake of his young daughter, Daniel Bryan must remain retired.
What do you think? Should Daniel Bryan wrestle again or should we remain retired? Share your thoughts in the comment section below.
Your Thoughts
Sign Up for a daily briefing from your #1 source for wrestling intel