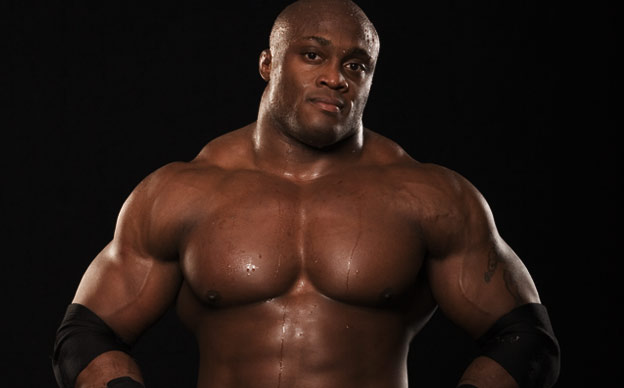 The WWE United States Championship has been misused and overlooked more than any other WWE title. But with A.J. Styles's recent shocking defeat of former champion Kevin Owens at a house show in Madison Square Garden and the subsequent reintroduction of the fantastic U.S. Open Challenge, hopefully the Phenomenal One will continue Owens's work of restoring some much-needed credibility to this storied championship.
That being said, there are probably a lot of people you've completely forgotten were ever United States Champion. Here are just five.
5. Orlando Jordan
Did you even remember that Orlando Jordan worked for WWE once upon a time, let alone that he was United States Champion?
In spring 2005, Jordan was a member of JBL's villainous Cabinet stable when he challenged John Cena for the United States Championship. Jordan won – with the help of JBL – resulting in his one and only title reign in WWE. He held the championship for 171 days before losing it to Chris Benoit in 25.5 seconds at SummerSlam. Jordan left WWE less than a year later.
4. Finlay
Finlay is a legend in the wrestling world, but you might have forgotten that the Northern Irish grappler was United States Champion for 49 days in 2006.
Finlay was a member of King Booker's Court, along with William Regal, when he won the championship. He defended the title several times, often with the help of "The Little Bastard," a.k.a. his storyline son, Hornswoggle. Fun fact: both the person he defeated for the championship as well as the person he lost it to are also featured on this list.
3. Mr. Kennedy
Mr. Kennedy had a short, somewhat compelling 42-day reign with the United States Championship in 2006, but it's not nearly as notable as some other reigns within recent memory.
Kennedy won the United States Championship in a triple threat match on the Sept. 1, 2006 episode of SmackDown. This was back during the first brand split, and after winning the title Kennedy lobbied SmackDown General Manager Teddy Long to move him to Raw. However, Kennedy never got what he wanted, and he eventually lost the title to Chris Benoit.
2. Bobby Lashley
Bobbly Lashley is more commonly associated with MMA and Impact Wrestling than he is WWE, which is why you might have forgotten that he was WWE United States Champion during his short stint with the company.
Lashley won the title from JBL in May 2006; it was his first professional wrestling championship. However, he lost it 49 days later in a triple-threat match… against Finlay and Mr. Kennedy.
1. Kalisto
Kalisto hasn't seen much action since splitting from his former tag team partner Sin Cara, so it's understandable that you may have forgotten he was United States Champion for all of one day in January 2016.
Kalisto defeated Alberto Del Rio on Raw to win the championship, and promptly lost it to Del Rio on the subsequent episode of SmackDown. This was back when SmackDown was still taped on Tuesday and aired on Thursday; so while WWE recognizes Kalisto's reign as 3 days, we all know the truth.
Again, the United States Championship, while prestigious, has had a rather rocky past. Hopefully A.J. Styles will restore to the former glory it deserves.
Were you surprised that any of these people were United States Champion? What other people had less-than-memorable reigns? Share your comments below!
Your Thoughts
Sign Up for a daily briefing from your #1 source for wrestling intel