Tonight's Raw emanates from the Nation's Capital, Washington, DC! We're on the road to Summerslam, and as such, feuds will begin bubbling up and matches will be solidified for the Biggest Part of the Summer. WWE announced three big matches that will take place tonight. We rank the matches by order of importance and tell you what we think will happen.
3. Finn Balor vs Elias Samson is a No DQ Match
After getting brained by Samson's guitar last week, The Demon King will challenge the Drifter in an NO-DQ match. Like a lot of fans, I have no idea what they plan on doing with Balor. They're either protecting him or burying him depending on who you ask. I tend to believe they have big things for Balor, but it is a matter of when. There's no doubt he's one of the most popular talents on the roster. The match being No-DQ could be an excuse for Balor to FINALLY reunite with Gallows and Anderson and reform the Bullet Club.
2. Rollins and Ambrose vs. Miztourage
Dean Ambrose is not as willing to forgive Rollins for his betrayal of the Shield as Roman Reigns was. They've built an uneasy alliance against The Miz and his cronies. The two former Shield members square-off against the Miztourage tonight. It seems to me that WWE is building up the tension to have the two feud over the IC title. This is an exciting possibility. Rollins and Ambrose have rare chemistry and their Lumberjack Match from 2014 is one of my favorite matches ever.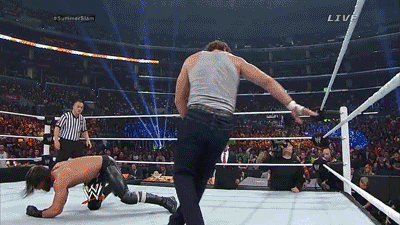 1. Bayley vs. Sasha Banks Number 1 Contender Match
The two 'best friends' won't be hugging it out tonight. Sasha and Bayley will face off tonight to determine the number 1 contender to face Alexa Bliss at Summerslam. Bayley has stagnated a bit recently as her character has shown no real depth or change since she debuted on the main roster nearly one year ago. Both ladies are incredible in the ring, however. I suspect tonight they'll be given a few segments to really show what they can do. In fact, it was during a Summerslam weekend a few years back when both ladies showed that they're two of the best in the world. Whoever wins tonight gets a one-on-one match, which is a rarity on for women PPV. A chance for a singles match on the biggest stage of the summer would elevate both ladies.
I think all three matches have the potential to set the stage for great feuds moving forward. They just have to go out there and execute.
What are you looking forward to on Raw tonight? share your thoughts.
Your Thoughts