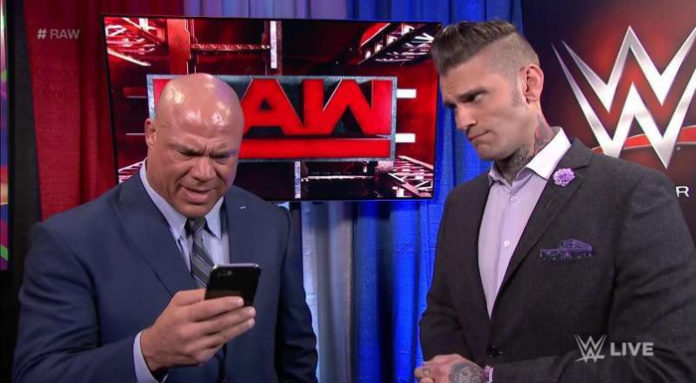 The secret between Kurt Angle and Corey Graves has been intriguing the WWE Universe for several weeks. Many believe that it is the prelude of Kurt Angle returning to the wrestling ring, but there is also some talk that it could relate to a love interest storyline!
But who could be Angle's mistress? Here are a few possibilities!
1. Vicky Guerrero
While many of you will disagree with me, Vicky Guerrero is my favorite love interest for Kurt Angle. I loved the fact that she never took herself too seriously and gave us some seriously cringe-worthy television. So, how great would it be to see Vicky on WWE television again? "Excuse me!"
2. Stephanie McMahon
Many well-respected wrestling journalists are predicting a rivalry between Kurt Angle and Triple H. Therefore, a possible love interest for Kurt Angle could be none other than Stephanie McMahon! They certainly have a long history and could play it well!
3. Dixie Carter
Dixie Carter has been appearing on the WWE Network lately, which means there is much speculation about Dixie Carter being Kurt Angle's love interest.
I do have to admit, it would be strange to make Dixie Kurt's love interest, especially with her long commitment to Impact Wrestling. However, we cannot forget that Kurt Angle has a history with Impact Wrestling too, so maybe they could play on that?
4. Jojo
I have to be honest, this would upset me more than interest me. However, there are some rumors that Jojo could be the love interest of Kurt Angle.
Recent news came to light that Jojo has been having an affair with Bray Wyatt, which caused Bray Wyatt's wife to file for divorce. The WWE has been trying to avoid the subject, but they have been known in the past to use real-life scandals. Could the match Kurt Angle fights in the future be against Wyatt? Even though it is quite unbelievable and unlikely, it could be an option WWE creative is considering.
5. Mickie James
One of the more likely choices at the moment is Mickie James, because Kurt and Mickie have some Impact Wrestling history. The two shared a moment several weeks before his Hall of Fame induction, where James told Angle she loved him. Could she be the love interest?
6. Corey Graves
It would be extremely controversial, but it would also be the biggest pay-off in my humble opinion. It has been years since the WWE did a serious gay storyline, so a relationship between Kurt Angle and Corey Graves could certainly be unique.
When you look at the WWE at the moment, there is no genuine openly gay character. Even though Darren Young has come out as gay, he has disappeared off the main stage somewhat. So, maybe it is time for something a little more "fabulous"?
Who do you think is the secret lover of Kurt Angle? Who would your favorite lover be? Or do you believe his secret is something else? Let us know your favorites in the comment section below and let's do some sleuthing together.
Your Thoughts