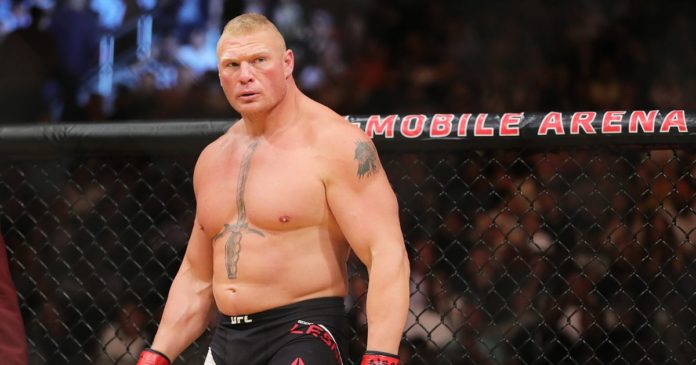 Newly crowned UFC Light Heavyweight champ Jon "Bones" Jones is known for his brash personality, bravado, and backing it up in the Octagon. After dispatching with long-time rival Daniel Cormier at UFC 214, Jon Jones set his sights on a bigger target. Literally and figuratively. Jones challenged WWE Universal Champion Brock Lesnar.
MIC DROP TO THE UMPTEENTH DEGREE FROM @JonnyBones #JonBonesJones 🔥 🔥 🔥 #UFC214 pic.twitter.com/Gaha3QzA0e

— UFC (@ufc) July 30, 2017
Via AP
"Brock Lesnar, if you want to know what it feels like to get your ass kicked by a guy who weighs 40 pounds less than you, meet me in the octagon,"
Brock's response was classic: few words but still menacing.
"Be careful what you wish for, young man,"
Yes. Please give us this fight. Speculation about this bout has been going for weeks now. Jon Jones expressed his desire to fight the former UFC Heavyweight champ and box office mega-draw. The Beast responded that he'd be down to fight Jon Jones "anytime anywhere."
Could this Lesnar – Jon Jones "Superfight" Happen?
This adds more to the rumor cauldron, with speculation bubbling that Brock is preparing for another UFC run. The fight probably won't happen until 2018 at the earliest, as Lesnar won't be eligible for a UFC return until late this year. UFC President Dana White has also poured cold water on the rumors, saying he hasn't even spoken to Lesnar. White's known to lie, and he's a showman. He also knows how to create super-fights that draw massive attention and money. Personally, I would love to see this fight. UFC has a chance to create a real spectacle. Getting beyond weight-classes and creating a contest of skill vs. power.
No word yet on how this would affect Lesnar's WWE run. But with a fatal four-way now on the books for SummerSlam, Lesnar could lose the title without being pinned. There's also a question if WWE will even discuss the speculation. They helped promote Lesnar's last UFC fight.
I'd put this fight at a 30% of happening. UFC and Dana White are occupied with promoting the McGregor-Mayweather boxing match. Lesnar still has a few dates left on his WWE.
Share your thoughts on this story in the comments below.
Your Thoughts
Sign Up for a daily briefing from your #1 source for wrestling intel