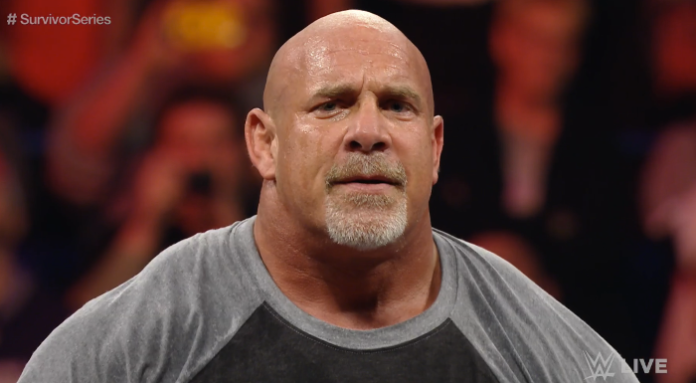 Even though Goldberg officially retired three months ago, it seems like the 50-year-old legend cannot stay away from the wrestling ring. So, let us investigate and see if there is any truth to these rumors.
Wrestling or Appearing for MCW Pro Wrestling?
The rumor is going around that Goldberg will be wrestling for a small U.S. wrestling promotion called MCW Pro Wrestling. We do need to mention that it is more than just a rumor though, because the wrestling promoter is currently advertising a Goldberg appearance at the convention for one of their shows on the 30th of September!
The Event
Forget #TheMizzies! #WCW Legend & former #WWE Universal Champion @Goldberg is coming to #MCW on Sept 30th! #RAWhttps://t.co/ldeuDovVkY! pic.twitter.com/R1q94joAKG

— MCW Pro Wrestling (@MCWWrestling) July 11, 2017
It is currently not known if Goldberg will be wrestling or not. Since it is a convention and a tribute to wrestling legends, it is more likely that Goldberg will just make an appearance.
Where Can I Get Tickets?
Meet #WWE HOF'ers @RealMickFoley, #TagTeam Legends #RockNRollExpress as well as #WWF Star #PapaShango THIS FRIDAY!https://t.co/ldeuDovVkY pic.twitter.com/JJt1ysmcXL

— MCW Pro Wrestling (@MCWWrestling) July 11, 2017
Considering a ticket for a RAW or SmackDown Live event can cost you anything between $75 and $300, you might want to consider attending one of the MCW Pro Wrestling events, because the tickets are a whole lot cheaper.
Wrestling fans who have show tickets for the same day can attend the convention for free. If you only want to attend the convention and not stick around for the wrestling matches, you'll only have to pay $10.
Meeting Goldberg
If you have always wanted to meet Goldberg in person, then you simply have to attend the convention organized by MCW Pro Wrestling. During the convention, fans get the opportunity to get an autograph from the legend and also take a photo!
Wrestling fans with a VIP pass get extra, although you have to pay quite a bit more for it. Still, the extra money is more than worth the increased price. If you have a VIP pass, you will get access to the VIP line, get a personal Q&A with Goldberg, up to three autographs, a poster, and a photo op for up to two people. The VIP pass also gives you access to the arena for the morning of the event. So, the extra price is certainly worth what you get in return.
Other Ticket Options
Getting some front row tickets for the MCW Pro Wrestling matches is a lot cheaper than any WWE event. For front row tickets and access to the convention, you will only pay $40. If you don't want a front row-seat, you'll only pay $20.
For more information about the various tickets available at MCW Pro Wrestling, please head over to the ticket website of MCW Pro Wrestling!
Conclusion
I love the fact that Goldberg is returning to a wrestling promotion that is affordable for everyone. If you never had the opportunity to meet Goldberg and get an autograph from him, then be sure to attend this glorious event!
Are you planning to attend the MCW Pro Wrestling Convention? What do you think about Goldberg's return to wrestling shortly after announcing his retirement? Let us know in the comment section below!
Your Thoughts
Sign Up for a daily briefing from your #1 source for wrestling intel