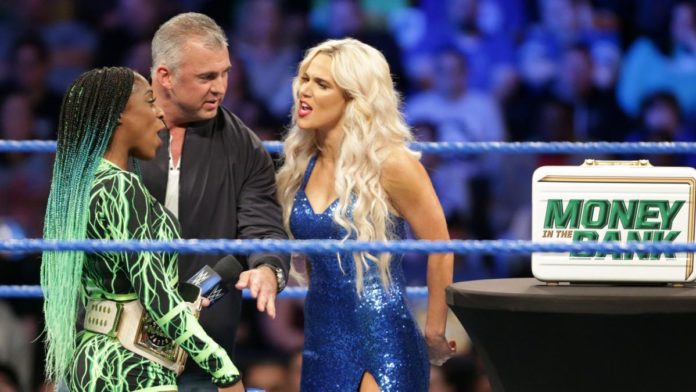 Some things upset me on a personal level when it comes to wrestling. One of those things is the negativity Lana is getting from many wrestling fans, and even my colleagues, despite the effort she has put in training over the past couple months.
I'm not alone in the opinion that Lana deserves some support though, because one of our colleagues at Cageside Seats also spoke out about the negativity Lana is facing and why it is undeserved at this point. So, without further ado, here is my unsalted opinion about the Lana situation.
Stunningly Beautiful
You cannot deny it, Lana is a stunningly beautiful woman. I personally believe this rubs people the wrong way, just like my colleague at Cageside Seats does.
Some people find beauty intimidating and subsequently love to find any weakness that can be used to take the beautiful person down a notch. It's truly a bizarre phenomenon.
While some might be beautiful and have an ugly character, Lana is certainly not a bad person. If you have watched her in Total Divas, you know that Lana is quite sweet and kind. So, she is certainly not deserving the crap she gets because of her looks.
Other Divas Are More Deserving
I keep hearing this over and over again: "Other divas deserve the title shot more". While I won't deny that there are many divas deserving a title shot, I'm not going to be ignorant and say that Lana does not deserve one.
Lana has worked hard on her in-ring skills and her persona. Why wouldn't she deserve a shot at the title and some time in the limelight? Many people are judging her already, without even seeing her in-ring performance on the main roster?
What I Think Lana Brings to the Table
I think Lana brings a lot to the table, which includes things that have gotten lost since the women's revolution. The women's division, in my humble opinion, is missing some of the glamour it had several years ago. Lana brings a lot more glamour to the table, but also shows that beauties can be tough as hell!
Whether you love or hate Lana, you also have to admit that Lana's arrival has made the women's division a little more interesting. It also helped Naomi to shine in my opinion, because it enabled her to step away from the baby face champion to the "I will kick your ass" champion. Epic!
I know that many of you will disagree with me, but all I ask is to give Lana a fair chance. If she messes up during the match with Naomi, then you have more than enough ammunition and a valid argument. Of course, there are also people who agree with me already and are waiting to see what Lana delivers in the ring.
Besides, she has a SICK finisher!
What is your opinion about Lana? Are you willing to give her a chance at Money in the Bank? If she performs well, do you think she can contribute to the SmackDown Live women's division? Let us know your unsalted opinion below and we look forward to reading it!
Your Thoughts
Sign Up for a daily briefing from your #1 source for wrestling intel