Tonight's Raw comes from the City of Angels, Los Angeles, California. The road to Great Balls of Fire continues and the feuds and storylines will be dripping with Hollywood puns and references. Also, expect to see a lot of celebrity sightings.
Here's what else we're looking forward to on tonight's episode.
BROCK SMASH!
WWE adds more to the "Big Fight Feel" of Brock Lesnar's title match vs contender Samoa Joe. Joe has shown himself unafraid of the Beast Incarnate. Will we get another pull apart brawl? Mind games from Heyman and Lesnar? Another promo from Joe that makes you question whether or not he knows wrestling is "predetermined"? Let's hope for all of the above!
Braun's Not Finished Yet!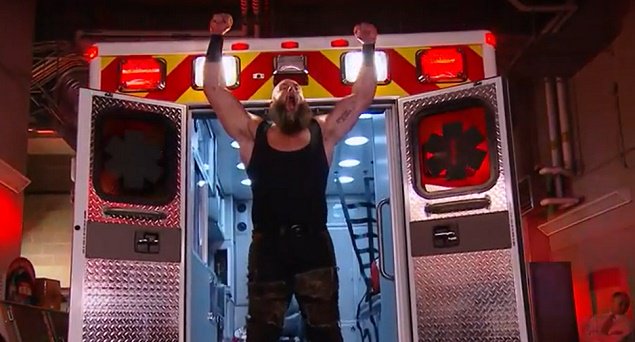 Last week's SHOCKING return of Braun Strowman stunned the Universe and Roman Reigns. The Monster Among Men returned in an ambulance (of course) ran down to the ring and eviscerated the Big Dawg. Strowman challenged Reigns to an Ambulance Match, which makes sense. Many speculate that this is shaking up WWE's plans for SummerSlam. Will Bruan brutalize Reigns once again? Fans sure hope so!
LA 3:16?
There is speculation that Stone Cold Steve Austin will appear as well. The Texas Rattlesnake splits his time between LA and his Texas ranch. Adding to the speculation, WWE is sharing special shirts to commemorate the Raw that features Stone Cold's signature tagline:
Goldust Premieres His Latest Creation
Little discussed here over the last few weeks has been Goldust's return to his creepy, HollyWEIRDO self. He violently broke up with partner R-Truth and has been teasing a new film that will debut on tonight's show. These two have amazing chemistry and I am glad WWE handed the two veterans this storyline.
How Ya Doin' Enzo?
Big Cass broke our hearts and Enzo's face last week. He destroyed the most lovable, quotable tag team in WWE and left fans stunned. Now, what will happen? Will we get a pun-filled yet somber promo from Enzo? Who will yell S-A-W-F-T? Did WWE biff it by breaking up the most popular new tag team in years? We will see!
Ladies Make History (AGAIN)
It seems that every week on Raw and Smackdown, the ladies of WWE achieve another first for their gender. Tonight it comes in the form of a gauntlet match to determine the number 1 contender for the Raw Women's Title. The winner will face Alexa Bliss at Great Balls of Fire
EXCLUSIVE: @MikeRomeWWE has some HUGE NEWS regarding @AlexaBliss_WWE's #RAW #WomensChampionship and @WWE Great Balls of Fire pay-per-view! pic.twitter.com/YwhMHhrwqf

— WWE (@WWE) June 26, 2017
Big Baller Brand on Raw?
Allegedly, WWE has tried to get the Mr. McMahon of Sports Dads, LaVar Ball on Raw. There's a good chance this will happen because WWE will schill for ANYONE and LaVar Ball will go anywhere to promote his failed shoe brand and also maybe his son. Lavar is a heel in the basketball world, though he might be too dumb to know it. I just hope he and his son don't "Dunk" on and embarrass a wrestler. Maybe Titus O'Neill will get them to join the Titus Brand?
Look who is backstage at #Raw pic.twitter.com/9U2jSUkdND

— ProWrestlingSheet (@WrestlingSheet) June 26, 2017
The Miz confirmed the Ball family will be on Miz TV!
EXCLUSIVE: @mikethemiz has MAJOR guests lined up for #MizTV tonight on #RAW in @STAPLESCenter, and their names are @ZO2_ & @Lavarbigballer! pic.twitter.com/Lejp3WJHhw

— WWE (@WWE) June 26, 2017
And all the rest!
Bayley's road to redemption continues.
The Hardys try to win back their belts or at least become BROKEN trying.
Seth Rollins and Bray Wyatt continue their busy-work feud.
What are you looking forward to on Raw tonight? Share your thoughts.
Your Thoughts
Sign Up for a daily briefing from your #1 source for wrestling intel