On the April 18th episode of Monday Night Raw, Big Show and Braun Strowman put on a hell of a match with a finale that had the crowd on their feet and the ring smashed into the ground. Strowman suplexed The World Largest Athlete off the 2nd rope. The force and the weight of the two men was so powerful that the ring collapsed and poor referee John Cone was thrown from the ring.
It was a moment that was staged and people online thought was going to happen, but that doesn't take away from the moment and the crowd's explosive reaction.
This isn't the first time this has happened in WWE or wrestling in general. Here are a few more moments when the wrestling was so powerful, it broke the ring.
Big Show and Brock
Before this, the moment everyone thought of when it came to the ring breaking also involved The Big Show. This time though he was suplexed by a young Brock Lesnar.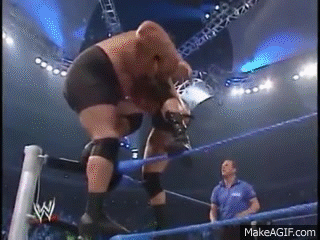 Big Show sends the Undertaker to Hell
Big Show could break a ring without a superplex. Here he put the Undertaker straight through the ring with a powerful chokeslam.
Taz and BamBam
In ECW Taz and Bam Bam Bigelow beat themselves to a pulp. Taz began choking out BamBam and jumping on his back. The Beast from the East could only think of one way of getting the Human Suplex Machine off of him.
The two also fell through the ramp.
Foley Falls
In what was one of his many "retirement" matches, Foley returned to his most infamous venue, Hell in a Cell, looking to recreate his infamous fall through the cage, WWE took a few precautions this time:
Rope Breaks
Sometimes the ring can only take so much punishment before it or the ropes collapses legitimately. This happens on the indie scene often:
Here is a list from WWE with a few moments we missed:
What's your favorite moment of a ring getting destroyed? Share your thoughts.
Your Thoughts
Sign Up for a daily briefing from your #1 source for wrestling intel