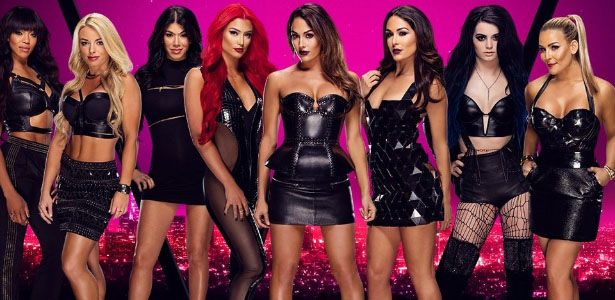 RANKED
Some lists transcend wrestling promotions, and our top female wrestlers of 2017 list is certainly one of those lists. To help you stay up-to-date with the latest developments in the wrestling industry, whether you're a WWE fan or indie fan, I've got you covered.
This is the perfectly accurate, undeniable top 5 list of the ladies of wrestling.
1.   Asuka
Asuka is undoubtedly my number one. She has been the longest reigning champion in NXT and was already one of the best-known female wrestlers in the world before she even signed with WWE. She is due for a main roster upgrade soon, so I can't wait to see what she can do on an even bigger stage!
2.    Rosemary
Not many wrestling characters can genuinely creep me out and make me cringe, but Rosemary is one of the ones that can. Her entire gimmick is terrifying in my eyes and I certainly hope she has a long reign as the TNA knock-out champion. I do believe Rosemary has a bigger future than TNA alone and might make her way towards a WWE championship at one point, but I hope she can stay on the Indie scene a little while longer, because I cannot get enough of this character!
3.    Naomi
Former SmackDown women's champion Naomi has been one of the most undervalued yet most talented women's wrestlers in my opinion. Even though her mic skills are not on point just yet and she does look uncomfortable when speaking at times, her ring ability is outstanding. Not many can match the athletic ability of Naomi, so I hope she gets the recognition she deserves. I certainly can't wait to feel the glow at WrestleMania 33.
4.    Gail Kim
Gail Kim is undoubtedly one of the best-known knock-outs on the TNA roster, so her high ranking on my list does not need a lot of explanation. Even though Gail Kim did a stint as WWE Women's Champion, her legendary matches were certainly those she fought in TNA. She was also the first female inductee in the TNA Hall of Fame. Even though Gail Kim is currently out with an injury, she revealed she will return to TNA as soon as she is medically cleared.
5.    Alexa Bliss
Alexa Bliss may not be as experienced as many women on the current SmackDown roster, but she's certainly champion material. Known as the wicked witch of the WWE, Bliss has been quite successful with her heel character that is a subtle wink to Harley Quinn. Since she is already a two-time SmackDown Women's Champion, we cannot wait what else she has in store for us.
Honorable Mentions
There are more women that certainly deserve a spot on my list, but have been promoted so much I thought it was more important to mention those whose skills and character deserved special mentioning. Of course, there are many up and coming female wrestlers you should certainly check out; this includes Ember Moon, Peyton Royce and Mandy Leon.
Do you have another suggestion for our list? Be sure to let us know!
Your Thoughts
Sign Up for a daily briefing from your #1 source for wrestling intel