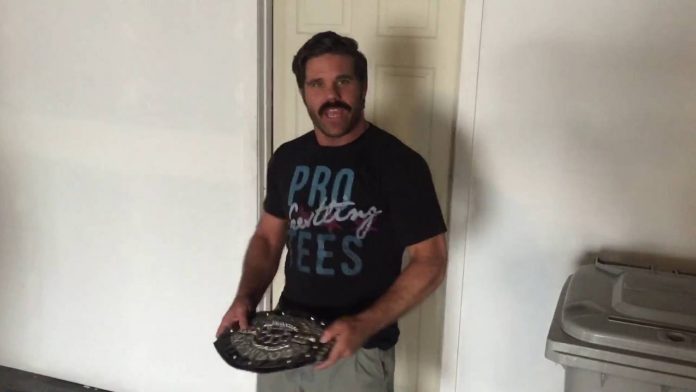 *UPDATE* Here are all the title changes we could find. 
First, Ryan lost the title to Brandi Rhodes, a female wrestler, and wife of Cody R(hodes):
Ryan got it back and the next night lost it to former WWE superstar Hornswoggle in a battle royale.
And of course Swoggle wins the damn DDT Battle Royale… only for Joey Ryan to pin him and win it Byke… #WrestleCon JihaD pic.twitter.com/7T78vG43aQ

— Henny Chigga (@ZipSquad_JihaD) April 1, 2017
…Only to lose it to hardcore LEGEND The Sandman:
Sandman is the new DDT Ironman Heavymetalweight Champion!! #WrestleCon pic.twitter.com/USezXSped7

— Jermaine Evans (@jevanshistory) April 1, 2017
THEN Swoggle pinned a passed out Sandman (lol) who then lost it back to Joey Ryan
6 #ddtpro Ironman Title changes at #WCPWOrlando today. Details soon but know that I'm current champ & on my way to #WrestleCon Women's Show. pic.twitter.com/HGxBmIR9KB

— Joey Ryan (@JoeyRyanOnline) April 1, 2017
There were then 11 more title changes!
The champs and title changes (not counting Ryan winning it back) were:
Jack the Jobber
Joe Hendry
Hendry relinquishes to a trash can
Jack The Jobber pins the trash can
former UFC star Shayna Baszler then loses to Eddie Kingston via "verbal submission"
Kingston trades it back to Joey Ryan for a pack of cigarettes
Joey Janela
Janela then loses it to the Invisible Man
There will plenty more as Ryan travels with the belt across the United States and then back to Japan. We'll try and track all of them!
____________________________________________________________________
Joey Ryan is bringing the DDTPro Ironman Heavymetalweight 24/7 Hardcore title back to the United States.
Ryan will be defending the belt at several events Wrestlemania weekend, and presumably elsewhere. The belt can be defended anytime and anywhere, as long as a ref is present.
At least 11 chances to see me defend, lose, win the #ddtpro Ironman Heavymetalweight Championship during #Wrestlemania week. pic.twitter.com/R9ppdAtkDg

— Joey Ryan (@JoeyRyanOnline) March 27, 2017

When Ryan initially won the title and brought it to the states, over 20 different wrestlers, people, and objects had held the title: a cat, Scott Hall, Vince McMahon's Walk of Fame star, and the entire crowd at a wrestling show were all champions.
Ryan went viral two years ago after using his penis to suplex another wrestler.
DDTPro is a Japanese wrestling promotion famous for its use of comedy, including having wrestlers square off against an inflatable doll:
Safe to say Ryan will be recording a lot of hilarious "matches" and title changes over this weekend. Can't wait to see them!
Fan of Joey Ryan or just "weird" wrestling? Share your thoughts.
Your Thoughts
Sign Up for a daily briefing from your #1 source for wrestling intel