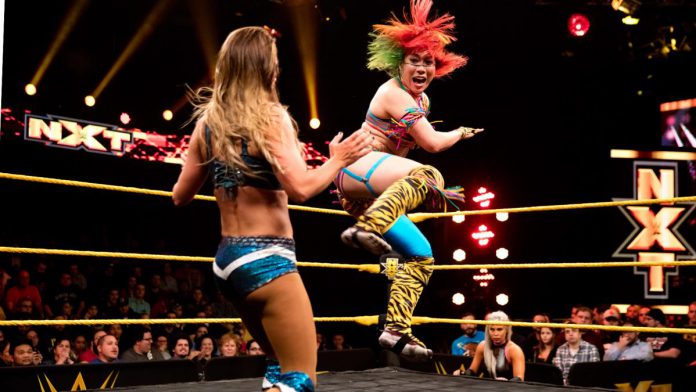 **Update**
Asuka retained against Ember Moon at Takeover, but used some bad guy tactics, including pushing the ref into the ropes to stop Ember from hitting the Eclipse. What does this mean moving forward? 
Total Eclipse at Takeover?
Asuka is officially the longest reigning NXT women's champion and nobody could be more delighted about that than me. Since her arrival, I immediately said she would become one of the greatest female wrestlers, even though she was already was by the time she signed a contract with WWE.
But now Asuka has outgrown the NXT brand, and she's certainly ready for the main stage. So, is Asuka going to lose her title to Ember Moon at NXT Takeover?

The Need for Talent
With the departure of Bayley, Charlotte, Sasha Banks, Becky Lynch, and Alexa Bliss to the main roster, NXT was in desperate need of talent for the women's division. Fortunately, Asuka would carry the entire division and become one of the most memorable champions the wrestling promotion ever had. Even though NXT has supplemented their talent, there is nobody that can reach Asuka's level at this point, except for Ember Moon. When she made her debut, I saw her rising through the ranks quite quickly. Now, she has a match with the Empress for the title at Takeover this Saturday.

The Eclipse
Ember Moon certainly has a gimmick that speaks to the WWE Universe, including me, because I've been a fan of hers since she made her debut. The colored contact lenses and mystery surrounding her character makes me want to watch her wrestle.
Fortunately, she also delivers with her ability, having one of the most devastating finishers in NXT women's wrestling history – the Eclipse. If Ember Moon can hit an Eclipse on Asuka, I believe she'll take the title from the Empress and finally break the reign of the champion. I also believe that Ember Moon can carry the division and build up an interesting rivalry with other talent that is making its way up at the moment; this includes Peyton Royce.
Downgrades
Even if Ember Moon takes the title, I cannot help but be disappointed. Many won't agree with me, but I believe that Ember Moon has already transcended the NXT brand, much like Asuka has. I also believe some women on the main roster should be put back in NXT, not due to a lack of talent, but due a lack of character definition. Just think about Charlotte's protégé Dana Brooke, Carmella, and most of all Nia Jax! WWE wants us to believe that Nia Jax is this devastating power, but she contradicts her own gimmick all the time. It would be better for her not to speak at all. Sorry Nia!
When you compare the RAW's women division to SmackDown, there's certainly a difference in presentation. RAW is desperate for some change, because Bayley is not a convincing champion in my eyes and I cannot take another round between Charlotte and Sasha Banks. I would hate for Nia to have the title as well, because I feel I'm witnessing the Roman Reigns syndrome all over again, where we are getting promotions forced down our throats. So, I'm certainly curious to see what will happen this Saturday and the following weeks.
What are your predictions for Takeover? Share them in the comments below!
Your Thoughts
Sign Up for a daily briefing from your #1 source for wrestling intel